Where actress Malin Akerman plans to stay on her next trip to Nicaragua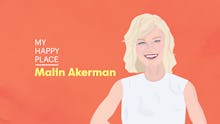 In My Happy Place, we talk to some of our favorite people about their emotional connection with an unforgettable destination.
Actress Malin Akerman — who currently stars as Lara Axelrod on Billions — didn't have childhood Hollywood aspirations. Instead, she was studying to become a child psychologist and started acting as a side gig to make extra money. "My dream was to transform schools so that kids have a safe place," she said. We chatted with the Swedish-Canadian actress on how her career led to an ambassadorship for Opportunity International — and how travel allowed her to reconnect with her passion for children's education.
"After my first year at York University in Toronto, I was burnt out. I was broke and I had been on my own since I was 16, and always dabbled in modeling and commercials to make ends meet. So I thought, I'll take a year off and do some acting and bartending. The acting picked up, and I decided to go with it — it was similar to psychology, but in a more selfish way."
"Acting led me to Los Angeles, where I got a manager and publicist. My publicist, who is a good friend, knew of my initial passion in life and introduced me to Opportunity International. What spoke most to me was the focus on women. When you give women the power to create their businesses and have financial stability, they put that money back into their families, which means their kids don't have to work and can go to school. As soon as I heard what they did, I knew that I wanted to be a voice for them and help them in any way possible."
"I have been very hands on with the pilot school, Emprendedora Technical High School, which Opportunity International started in Granada, Nicaragua, five years ago. I visited the school, which is focused on agriculture, in the first year. They built these schools with a lot of focus, knowing that most of these kids won't leave Nicaragua. Kids learn how to grow yuca plants, because that's the country's biggest export. Opportunity exports the plants for them, and the money goes back into the school, so the school is self-sustainable. When I visited, the students showed me their gardens — they each get a little plot of land where they grow their own organic garden with help from a farmer. Some of them failed miserably and we had a good laugh out of it, and some of them were doing very well. The first class has now graduated high school, which is a big deal. Secondary education in Nicaragua is pretty much non-existent."
"For me, the most memorable moment was visiting the school and seeing those kids and how proud they were and how excited they were. What I love about it is that it's not a handout. The whole community has to be part of it. The kids have to want to go to school, the parents have to be part of it. The school bus costs 25 cents a week, so there's an actual worth on the education. It's incredible to sit there and be with the students and their joy in the school. I was excited about their excitement. You take it for granted when you go to school. Even my own son says, 'I don't want to go to school today,' even though it's just preschool. And I say, 'You know what buddy, you're so lucky you get to go to school and have this opportunity.' I started a scholarship fund for those who have graduated, because most of them expressed that they wanted to go into continuing education."
"The one other thing that stood out to me is that one of the women who received a microloan from Opportunity sat at the mayor's office day in and day out until she convinced him to get all the roads paved and put proper routes on the houses, because when it rained they couldn't go to school without paved roads. With the skills they'd taught her, they'd created a powerful female leader in the community."
"At our bed and breakfast in Granada, they served a Nicaraguan breakfast, which has become my favorite in the whole world, There were tropical fruits, and we got eggs, tortillas, black beans, rice, and a cheese they have there that's delicious sprinkled all over it."
"Opportunity has opened a second school for tourism now, which is all about their country and its indigenous species. When tourists come in, the students act as guides. The school is connected to an eco-hotel, called Pacaya Lodge and Spa, and the hope is that it will invite more tourism into Nicaragua and the students will be part of that. Some of the produce they serve at the lodge is what they've grown at the agricultural school."
"It's life changing when you go visit people who are making waves out of next to nothing and changing their whole community. It's inspired me to do as much as possible from my end of the world, and raise funds so Opportunity can continue the work they do. When you go and meet these people, they change a piece of you, and you just know that you have continue to fight for them. The most fun way to support them is to go to the hotel and stay there."
"I've already decided that I'll be staying at Pacaya on my next trip to Nicaragua. The hotel is a master plan on sustainability, and everything is solar-paneled. It's a beautiful property, and I'm so excited because I saw it when it was just a bunch of plans."