Police officer who fatally shot Australian woman reportedly identified as Mohamed Noor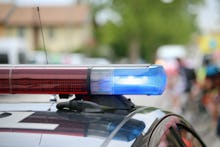 The Minneapolis police officer who fatally shot Justine Damond, née Ruszczyk, outside of her home on Saturday night has reportedly been identified as Officer Mohamed Noor, MPR News reported on Monday.
Damond, a 40-year-old yoga teacher from Australia who was planning to marry her fiancé, Don Damond, in August, had called police on Saturday night to report what she believed was an "active sexual assault occurring nearby," according to a statement from her fiancé, the Minnesota Star Tribune reported.
Two officers arrived at the scene — one of them was Mohamed Noor, a 31-year-old officer who had previously received praise from Minneapolis Mayor Betsy Hodges, according to the Star Tribune. Noor became the first Somali police officer "to patrol the 5th Precinct" when he joined the force in March 2015, the Star Tribune reported.
The details of how Noor came to fatally shoot Damond while responding to her 911 call remain unclear. Neither of the officers who responded had their body cameras turned on at the time, the Washington Post reported on Monday. Both officers are reportedly on administrative leave.
Thomas Plunkett, a lawyer representing Noor, released a statement on Monday confirming that Noor was the officer who fatally shot Damond, MPR News reported.
In the statement, Plunkett said that Noor extended his condolences to Damond's family and friends, saying, "He takes their loss seriously and keeps them in his daily thoughts and prayers."