Two more GOP senators just said they won't vote for the Republican health care bill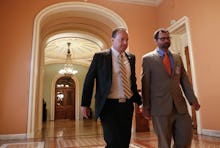 Republican Sens. Mike Lee of Utah and Jerry Moran of Kansas said on Monday that they will not support the GOP health care bill, the Associated Press reported on Monday, putting the Republican-backed bill's chances of passing in serious jeopardy.
The Hill reported on Monday that Lee and Moran's decisions officially put four GOP senators on record against the legislation, meaning that the bill no longer has the votes to pass.
According to the Hill, the two senators made their announcement on Monday night. In a statement, Moran said that "this closed-door process has yielded the [bill], which fails to repeal the Affordable Care Act or address healthcare's rising costs. For the same reasons I could not support the previous version of this bill, I cannot support this one."
Lee reportedly argued that the GOP bill wasn't "conservative enough," according to the Hill, saying in a statement that it doesn't "create enough free space from the most costly Obamacare regulations."
Also on Monday evening, Sen. Ron Johnson (R-Wis.) indicated that he might also be wavering on support for the GOP bill in the wake of reports that Senate Majority Leader Mitch McConnell had made closed-door comments about the Medicaid cuts in the bill, CNN reported.
Johnson, who supports an overhaul of Medicaid, reportedly said that he found reports of McConnell's comments "very troubling," CNN reported.