In a rare bipartisan effort, California votes to double down on fighting climate change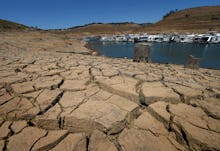 California legislators doubled down on the fight against climate change Monday night, voting to continue a cap-and-trade program that forces companies to buy permits in order to release greenhouse gases into the air.
According to the Los Angeles Times, Assembly Bill 398 passed by a margin of 55 to 21 in the assembly and 28 to 12 in the Senate, leaving the ambitious five-year-old program in effect until 2030.
In a rare bipartisan display, eight Republicans joined Democratic lawmakers in passing the bill, which is considered by some to be a pioneering effort in using financial penalties in order to get corporations to bring down their carbon dioxide emissions.
According to the New York Times, the program implements a statewide cap on carbon dioxide emissions, with companies granted the option of exceeding the cap with the purchase of additional "pollution credits." Revenue collected from those purchases will go towards other high-priority infrastructure projects in California, such as the construction of a high-speed bullet train from Los Angeles to San Francisco.
For California Gov. Jerry Brown, a Democrat, the bill also represents a final push to combat climate change, a central part of his legislative agenda as his term enters its final 18 months.
In his address to the legislature, Brown framed the bill as an international model for future efforts to reduce global emissions, and stressed just how crucial its implementation will be in the coming years.
"This isn't about some cockamamie legacy," Brown wrote on Twitter following the testimony. "This isn't for me, I'm going to be dead. It's for you and it's damn real."
Assembly Republican leader Chad Mayes told the Los Angeles Times that, despite Washington's chilly response to the issue of global warming, not all Republicans deny its existence outright.
"California Republicans are different than national Republicans," he said. "Many of us believe that climate change is real, and that it's a responsibility we have to work to address it."