The latest 'American Horror Story' season 7 clue has everyone confused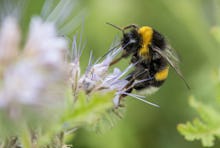 American Horror Story co-creator Ryan Murphy has blessed fans by releasing yet another clue for season seven of the FX anthology series. The only problem is that no one can agree on what it means.
Murphy posted the following image of a man covered in bees on his Instagram Monday. "AHS last clue before this week's TITLE reveal," he captioned the photo. "Ideas?"
Instagram users had plenty of ideas, of course. "Beyoncé," a couple of Murphy's followers guessed. American Horror Story: Beyoncé does have a nice ring to it, but it doesn't seem likely that this photo is hinting at a "Beyhive" storyline.
Another popular theory in the Instagram comments is that season seven will revolve around phobias. Fans turned to a photo that Murphy posted of Twisty the Clown, a character that was first introduced during Freak Show, to back up their case. Phobia of bees (apiphobia) and phobia of clowns (coulrophobia) are two common fears that people suffer from.
Considering that last season was set up as a reality TV show, some fans even suggested that this year might follow a similar path with a Fear Factor-type of reality series setting.
These theories are fun, but the issue is that previous season titles have been named after a location: Murder House (season one), Asylum (season two), Coven (season three), Freak Show (season four), Hotel (season five) and Roanoke (season six). If season seven follows that theme, the title based on the bee picture would have to be more along the lines of "farm" — which would tie in nicely with the "Butchery on Main" set photos. The tough thing is connecting bees to the "election" plot that Murphy previously teased.
Fortunately, we don't have to wait too much longer to find out the title. Murphy confirmed that the announcement is coming Thursday.
Mic has ongoing American Horror Story coverage. Check out our main American Horror Story hub here.