What Amazon's latest batch of trademarks tell us about the company's future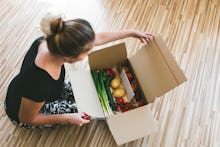 Amazon's purchase of Whole Foods in June, it turns out, may have been just one step in a broader push to enter the food industry — new reports suggest it wants to become your go-to destination for everything from meal kits to hamburgers.
That's according to Tech Crunch, which dug up 110 food-related trademarks requested by the company (the article doesn't specify when those requests began).
Some of the trademarks address existing initiatives, like a few dealing with hamburger meat that comes from individual cows rather than a mix. Amazon Fresh subscribers can already buy single-source hamburgers.
Most are more general, aimed at categories of food. Two key categories here are meal kits, where Amazon would deliver prepared ingredients for users to cook at home, and snack foods.
There's already some pushback to Amazon's food moves — the head of the union that includes grocery store workers has told the Federal Trade Commission he believes the Whole Foods purchase will hurt workers and consumers alike.