'Wet Hot American Summer: Ten Years Later' proves sometimes it's OK to skip the reunion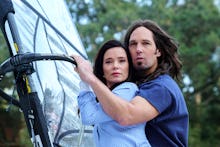 In 2017's world of never-ending content and endless binge-watching possibilities, there can be too much of a good thing. And nothing embodies that fact more than the current glut of Netflix originals.
Thanks to a mind-boggling $6 billion budget, the streaming service can pretty much do whatever it wants. That's both a good and a bad thing. On the plus side, it means we get shows like Master of None, Glow, Stranger Things and Orange Is the New Black (still worthy of praise despite its muddled fifth season). On the minus side, it means critics like myself have to slog through eight unnecessary episodes of Wet Hot American Summer: Ten Years Later.
As a fan of the 2001 sleeper (and sleepaway camp) hit film Wet Hot American Summer and Netflix's prequel series from 2015 Wet Hot American Summer: First Day of Camp, the last thing I wanted was for my reunion with the Wet Hot cast and creators to feel like a chore. But I regret to say that the original Camp Firewood magic, which is constantly referred to throughout Ten Years Later, is long gone.
The simplest of explanations is that the novelty of the Wet Hot American Summer story — as well as the running gag of actors like Amy Poehler, Elizabeth Banks and Paul Rudd portraying characters decades younger than their actual ages — has worn off. For those keeping track, after the movie and First Day of Camp were set in 1981, Ten Years Later takes place in 1991, with the camp clique trading in their striped tube socks and Jefferson Starship rock-outs for power suits and Slacker references. The cast members, most of whom are in their 40s, are now playing 26-year-olds as opposed to the teen versions of their Firewood alter egos.
You also get the sense that while the cast members were genuinely happy to reunite with their Wet Hot pals — and considering their divergent schedules, it's still a damn marvel they made it happen — the series' overall flat tone is likely due to the fact that most of the participants had bigger and better things on their plates elsewhere.
Cast in point: Wet Hot cowriter Michael Showalter is back as the goofy counselor-turned-novelist Gerald "Coop" Cooperberg. But given all the buzz Showalter is getting as the director of The Big Sick, your time will be much better spent heading to a movie theater to check out the State alum's real success of the summer, rather than sitting through Ten Years Later's seemingly endless four hours.
And it's not as if enjoyment of Ten Years Later hinges on his presence. But Bradley Cooper's glaring absence as one-half of Camp Firewood's most beloved couples, Ben and McKinley, basically says, "Sorry, I don't even have a spare 24 hours to give you nerds anymore, because I'm a movie star." (For what it's worth, Michael Ian Black does return as McKinley, now the father of a baby girl.)
The disappointing Ten Years Later can also be looked at as an example of what happens when Netflix has the money to keep greenlighting content that is at best, middling. To its credit, the streaming service is starting to trim the fat by canceling some series — The Get Down, Sense8 and Girlboss were given their walking papers earlier this year — but the company should've taken the downsizing a step further by not going ahead with this Wet Hot sequel series.
That said, it's not shocking that Ten Years Later got made, because it was structured from the very beginning as an inevitability: First off, the impending reunion was worked into the 2001 film. Then, combine the success of 2015's First Day of Camp with all that Netflix cash to burn, and you have the charmless no-brainer that is the 2017 edition.
Keeping that in mind, it's not fair to be too hard on Wet Hot's cowriters Showalter and David Wain — who also returns as both director and his First Day of Camp character, the slithery Yaron — because if the demand was there, why not make another series? Unfortunately, the entire production feels forced this time around and should be seen as a cautionary tale against further installments.
So what brings the characters in the Camp Firewood gang back to their childhood stomping grounds? Well, despite leading busy lives as cosmetics executives (Marguerite Moreau's popular counselor Katie), movie producers (Poehler's theater geek Susie) and pathetic virgins (nope, Ken Marino's Victor still hasn't gotten laid yet), a promise is a promise. The timing couldn't be better, because soon after the former counselors reunite in their old bunks, they're greeted with the news from Firewood's jaded owner, Janeane Garofalo's Beth, that she's selling the camp.
What follows is a madcap 24 hours that has the Firewood friends racing against the clock to keep their summertime haven from falling into the hands of a certain dastardly presidential villain. (You may remember him from First Day of Camp; he bears an uncanny resemblance to Coop.)
But the only mildly entertaining moments are the ones where Showalter and Wain stray from the actual story — which is weak, boring and, at worst, anticlimactic — to poke fun at how increasingly difficult it's become to get the now-in-demand actors to show up for their scenes. David Hyde Pierce, back as astrophysicist Henry Neumann, literally Skypes himself in for a single, brief appearance in which you can see Pierce's multiple Emmys adorning his shelves.
Otherwise, the rest of Ten Years Later just feels like one big head-scratcher: A series-long joke about how Rudd's onetime lothario Andy is deemed an old man by the current crop of campers doesn't really work when the Ant-Man star is still sporting his Dorian Gray-esque boyish good looks at 48. (An impressive feat considering they're hidden underneath a Matt Dillon-in-Singles wig and goatee.)
There's also the strange creative decision to introduce two new members of the OG Camp Firewood clique, Mark and Claire — played by Mark Feuerstein and Sarah Burns, respectively — who didn't exist in the original film or the 2015 prequel series. These characters add nothing to the story, and their blatant digital insertion into old footage from the movie, in a lame attempt to make their appearances credible, is more jarring than humorous. Like, in case you were curious as to what Mark and Claire were up to while most of the gang went into town to shoot up heroin on the last day of camp in 1981, apparently they were busy validating their existence by carving their names into a tree.
I could offer more specifics about why Ten Years Later doesn't work, but those plot points have been embargoed by Netflix. I'm also not allowed to say what new cast member Adam Scott is playing, but the answer is hidden in this review. (A clue: Don't hold out hope for a Parks and Rec redux when Poehler and Scott share scenes.) Perhaps this is because the streaming service already knows that the storyline goes off the rails to a point of no return in this sequel, and to allow critics to lay it all out in a review would be akin to revealing how Gene really feels about the camp kitchen fridge. So I'll just say this: There are plenty of excellent, binge-able choices out there on Netflix. Wet Hot American Summer: Ten Years Later is not one of them. Feel free to skip out on this reunion.
All eight episodes of Wet Hot American Summer: Ten Years Later will be available on Netflix Friday, Aug. 4.
Mic has ongoing Netflix coverage. Follow our Netflix hub here.