Hours after encouraging an immediate repeal, Trump tweets that Congress should "let Obamacare fail"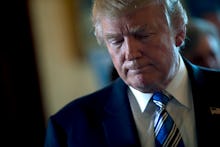 On Monday evening, almost immediately after two Republican senators dealt a killing blow to their own party's attempt to eviscerate the Affordable Care Act, President Donald Trump tweeted to encourage the GOP to repeal "failing Obamacare" without worrying about a replacement for the health care mandate.
But by Tuesday morning, Trump seemed to directly contradict his initial statement, instead telling his party to "let Obamacare fail" of its own accord, "as [he has] always said."
Trump's two conflicting directives, separated by a matter of hours, are the latest chaotic entries in Republicans' attempts to repeal and replace the ACA, a keystone of former President Barack Obama's legacy.
On Saturday night, Senate Majority Leader Mitch McConnell announced he would delay the vote on the Better Care Reconciliation Act, the widely criticized Republican health care plan, in order to allow Sen. John McCain to recover from surgery. Without McCain, Republicans did not have the numbers needed to pass the bill.
On Monday night, Republican Sens. Mike Lee of Utah and Jerry Moran of Kansas drove the final nail into the BCRA's coffin when they announced on Twitter that they would not support the bill.
In a move that appeared to be prompted by Moran and Lee pulling their support, Trump tweeted that Republicans should just repeal the ACA without worrying about a replacement. Shortly after, McConnell said Republicans could vote on the ACA repeal "only if they begin debate on repeal and replace bill," according to Politico.
In their assessment of an earlier version of the bill, the bi-partisan Congressional Budget Office announced in June that the BCRA would boot 22 million people off their current health care coverage by the year 2026. The CBO has yet to assess the latest version.