'Splatoon 2' Controller Options: These Nintendo Switch gamepads are great for the vibrant shooter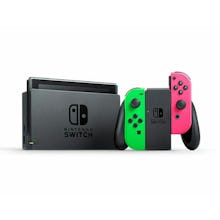 Splatoon 2 controller options are an important consideration ahead of the game's launch on the Nintendo Switch. Splatoon 2 comes out on July 21, so you'll want to make sure you're playing the game using the right setup. What exactly is the right Splatoon 2 setup? We've got some great options.
Splatoon 2 controller options: Nintendo Switch Joy-Con
The tried-and-true Switch setup. Players will be able to play Splatoon 2 using two Joy-Con attached to the console in handheld mode, or wirelessly in tabletop or docked mode. In our tests, we found that attaching the Joy-Con to the included grip felt more natural than holding one controller in each hand. Players get the added bonus of being able to specify motion control sensitivity between docked mode and handheld mode.
Nintendo will offer Splatoon 2-themed Joy-Con in certain regions, in addition to the grey and neon Joy-Con already available.
Splatoon 2 controller options: Nintendo Switch Pro Controller
As shown in Nintendo's demo of Splatoon 2 mode Salmon Run, the Switch Pro Controller will also work to control the game. Unlike the Wii U Pro Controller (which we still hope Nintendo brings the Switch support for), the Switch Pro Controller brings motion controls to your gameplay experience. Meaning you'll still be able to aim by physically moving your gamepad in addition to the right analog stick.
Like the Joy-Con, this too gets its own specially-colored controller option. The Pro Controller will release the same day as Splatoon 2 on July 21.
Splatoon 2 controller options: HORI Switch Pro Controller
If the $75 admission price for the Splatoon 2 controller has you and your wallet gasping, HORI has a cheaper option. It isn't mentioned specifically whether the HORIPAD will support Splatoon 2, but seeing as it supports Switch games in general, there's a good chance the paint-shooting game is included in that. But there are some downsides.
The HORI gamepad only works when physically tethered to the console's dock — so no wireless gameplay nor tabletop mode. The controller also doesn't support NFC or motion controls, meaning you'll be without smooth aiming and amiibo support. If those trade-offs are worth it to you though, you can snag the HORIPAD for $30.
Splatoon 2 controller options: The PS4 controller is another potential possibility
If you have a PS4 controller lying around, using it with your Switch console is actually possible. The Super Converter from Brook Accessory lets you attach your Playstation's DualShock 4 controller to your Switch. They even have a dongle to do the same with Xbox controllers if your allegiances lie with Microsoft.
Check out more gaming news and coverage
Check out more video game content on Mic, including which Pokémon are actually the best and why black players can never seem to get custom characters that look like them. Learn more about how blind gamers are getting in on the fun and that Injustice 2 appears to be nerfing its female characters. See why we love Twintelle (and why we hate Twintelle) in the upcoming Arms, and don't miss our guide to dodging blue shells in the Mario Kart 8 Deluxe — you can thank us later.