'Dunkirk' reviews: Christopher Nolan's "masterpiece" is already receiving Oscar buzz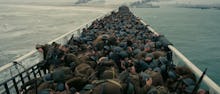 Film trailers, especially for blockbusters, often include a caption that says something along the lines of "from the visionary director of [insert movie]." The problem with using that phrase so often is that it dilutes its meaning when actually warranted — like when Steven Spielberg, Martin Scorsese and Quentin Tarantino return with a new feature. That sort of endorsement should also be included in every trailer for a Christopher Nolan film, because The Dark Knight director is without a doubt one of the preeminent visionaries in cinema today.
Nolan is the rare director whose name brings audiences to the theater — Inception, a wholly original film, grossed a remarkable $825 million worldwide at a time when the box office was dominated by franchises and adaptations. Over the last 17 years, the acclaimed filmmaker has left his signature on a host of genres: science-fiction, comic book blockbusters and neo-noir. Each of Nolan's films, whether it be Memento, Interstellar or The Dark Knight, has been unique to its respective genre — and critically acclaimed.
For his latest movie, Dunkirk, Nolan takes on World War II, a subject that has inspired classics like Saving Private Ryan and Schindler's List, as well as last year's Hacksaw Ridge — all of which were nominated for best picture at the Academy Awards. Because Nolan's name is attached, Dunkirk very well could surpass Saving Private Ryan as the highest-grossing World War II film, which is even more likely if the film proves to be a critical success. Well, reviews for Dunkirk are starting to trickle in, and critics are nearly unanimously singing its praise.
With an astounding 98% on Rotten Tomatoes (as of this writing), not only is Dunkirk wowing critics, but it's generating early Oscar buzz and is being called Nolan's "masterpiece." The site's critical consensus reads: "Dunkirk serves up emotionally satisfying spectacle, delivered by a writer-director in full command of his craft and brought to life by a gifted ensemble cast that honors the fact-based story." While that blurb should be enough to get moviegoers rushing to the theater, here is what some other critics are saying about Dunkirk. (Spoiler: It's all very positive.)
Richard Roeper, Chicago Sun-Times:
['Dunkirk'] is a great film about one of the most pivotal battles in World War II, in which the ultimate goal of the heroes was not to emerge victorious but to somehow find a way to retreat in order to regroup and fight another day.
Chris Nashawaty, Entertainment Weekly:
By the end of 'Dunkirk,' what stands out the most isn't its inspirational message or everyday heroism. It's the small indelible, unshakeable images that accumulate like the details in the corner of a mural. ... This is visceral, big-budget filmmaking that can be called art. It's also, hands down, the best motion picture of the year so far.
Lindsey Bahr, Associated Press:
I've never experienced anything quite like 'Dunkirk's intoxicating immediacy. The screen and images envelope you with urgency, dread and moments of breathtaking beauty and grace as you wait with the soldiers, as the title card at the beginning says, for deliverance.
Brian Truitt, USA Today:
It's less a movie and more a close encounter of the combative kind: You feel every bolt rattle in the cockpit of a dogfighting spitfire, every stressful moment with the choice of drowning or surfacing in an oil fire and every thought of certain doom for the infantrymen trapped on a beach when a bomb comes whizzing out of the sky.
Peter Debruge, Variety:
On one hand, [Nolan] has delivered all the spectacle of a big-screen tentpole, ratcheting up both the tension and heroism through his intricate and occasionally overwhelming sound design, which blends a nearly omnipresent ticking stopwatch with Hans Zimmer's bombastic score ... But at the same time, he's found a way to harness that technique in service of a kind of heightened reality, one that feels more immersive and immediate than whatever concerns we check at the door when entering the cinema.
Rosie Fletcher, Digital Spy:
'Dunkirk' is so much more than just a war movie. Emotionally devastating, cinematically stunning — with visuals easily rivaling Inception — it's a character piece with an enormous cast and very little dialogue, it's a thriller with no real plot and it's a tale of heroes where the very best they can hope for is just to not die today.
It sounds like Dunkirk delivers a movie experience that will not only satisfy war buffs, but fans of visual accomplishment and thrilling character pieces as well. And if most of the reviews have one thing in common it's this: Do yourself a favor and see Dunkirk in IMAX.
Dunkirk will be released on July 21 and features an ensemble cast that includes Tom Hardy, Kenneth Branagh, Fionn Whitehead, Cillian Murphy, Mark Rylance and Harry Styles.
Mic has ongoing coverage of movie reviews. Please follow our main movie reviews hub here.