Forget the cruise — here's why you should take a road trip through Alaska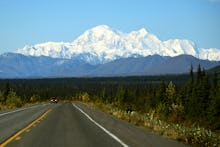 Oprah may be having the time of her life cruising in Alaska, but in my opinion, she's doing it wrong. To cover the most ground and actually see the state, roadtripping down Alaska's highways and through its small towns is the way to go. Not only does driving give you complete control over your schedule, gas in Alaska is cheap, tolls and traffic are pretty much nonexistent, and in the summertime, never-ending daylight makes driving anytime, anywhere enjoyable.
At pretty much every turn you make, you'll be in awe of mountains, impossibly blue water and perhaps a moose (or several) on the side of the highway or a group of fly fishermen catching their dinner. You just can't get that in an enormous floating hotel.
Flights to Anchorage are currently less than $600 from many American cities. While the road tours cost a solid chunk of change ($94 for rafting and over $800 for longer tours), taking nine days to drive over 1,000 miles through the last frontier is some of the best money (and time) I've ever spent.
Planning an Alaskan itinerary can be overwhelming, so I'm sharing the route my girlfriend and I drove in June (okay, she did all the driving). Though the schedule may look jam-packed and intense, there's plenty of time in the day to enjoy everything, and even slip in some vacation guilty pleasure reading in between it all.
Day 1: The Arrival
Mileage: 2.3 miles from Ted Stevens International Airport to the hotel
Highlights: Your first views of Alaska, plus realizing it never gets dark
After landing in Anchorage, grab a rental car at the airport and check into The Lakefront Anchorage (rates around $299/night), about a five-minute drive from the airport. The hotel welcomes you to Alaska with plenty of taxidermy wildlife in the lobby and some prime Instagram backdrops behind the hotel (yes, on a lake) to let everyone know where you are.
Day 2: Talkeetna, a small town led by a 16-year-old cat
Mileage: 116 miles from Anchorage to Talkeetna
Highlights: Walking through Talkeetna, flightseeing and fried lasagna
Populated by roughly 876 people, Talkeetna is internet famous for its most prominent elected official: A teenage cat named Stubbs who has held the office of mayor since July 1997. Skipping America's only feline-governed town would be a big mistake.
Aim to leave Anchorage by 10 a.m. to make the most of a day in Talkeetna. Stop in to Snow City Café, a local favorite, for a quick (Alaska quick, not New York quick) yet hearty brunch of crab omelets, biscuits and gravy.
On the drive to Talkeetna, an important roadside stop awaits in Wasilla, which, while also home to a notorious formerly elected official, is the site of one of America's last Blockbuster stores. You'll be driving back this way in a few days, if you do want to borrow any DVDs.
Sweet tooths may want to pull over at Kahiltna Birchworks to see the birch sap being harvested and sample some of the über sweet tree syrup. Fans of Dunkin's flavored drinks should buy a bottle of this sticky stuff to bring home – just a drop of this all-natural syrup is exceedingly sweet.
In Talkeetna, check in at Talkeetna Alaskan Lodge ($330/night), a four-star property with impressive views of Denali. Enjoy lunch on the lodge's back porch and take in the views or head into town to fuel up for the next adventure: flightseeing.
A quick Google search confirms Alaskan flightseeing doesn't result in hundreds of crashes each summer — something this anxiety-ridden writer had feared — so go ahead, board an 8-seat plane with K2 Aviation (flights start at $220/person) to get closer to Denali. The flight is slightly less than terrifying and incredibly informative, as our pilot impressively guided us around Denali and talked about its history and geologic importance.
To wind down from the heart-racing adventure of flightseeing, head to Denali Brewing Company, for a wide range of locally brewed beers pretty much unavailable outside of Alaska.
Buzzed on local beer, explore downtown Talkeetna, packed with souvenir shops, a dispensary and a general store, Nagley's, where Mayor Stubbs hangs out.
For dinner, grab a slice at Mountain High Pizza Pie, which has Alaska-friendly toppings like reindeer sausage, salmon and more classic options. Don't skip the deep-fried lasagna bites. You earned them.
Day 3: An easy hike through Denali
Mileage: 152 miles from Talkeetna to Denali, plus back and forth between attractions
Highlights: Seeing North America's tallest peak (if the weather cooperates) and riding ATVs
Another morning, another heavy breakfast. This time the carbs of choice are at Talkeetna Roadhouse, a 100-year-old bed-and-breakfast which serves oversize pancakes, biscuits soaked in reindeer gravy and cinnamon rolls at communal tables.
By 11 a.m., plan to hit the road and drive two and a half hours to Denali National Park, a six-million-acre expanse of spruce forest, tundra and, of course, the snow-covered mountain, Denali.
Very little of the park can be seen on foot, especially if you're not a pro expeditionary, so take advantage of the National Park Service's free nature walks. Rangers (versed in bear, moose and wolf safety) guide easy hikes about a mile into the park to explain the wildlife and plants prevalent throughout the park on daily free nature walks. Our ranger showed us a short path for our own (very brief) hike, to get more of a sense of the mystical forest that is Denali.
Make reservations for dinner at 229 Parks, a park-adjacent restaurant known for chef Laura Cole's locally inspired creations like rhubarb soup, reindeer ragu and Alaskan crab pasta.
Before turning on that hotel TV, use the still-light hours after dinner for an ATV tour. While ATVs technically aren't allowed in the park, Denali ATV (which has both solo and shared ATVs) can take you to otherworldly terrain just outside the park's boundaries, covered in seemingly glowing grey rocks and glacier silt steams.
Spend that night at Denali Grizzly Bear Resort ($249/night), which is much more a lodge and RV park than a resort, but at less than a 10-minute drive from the park's official entrance, has a competitive rate. For a bit more elegance, check into the McKinley Chalet Resort ($299/night).
Day 4: Rafting and bussing through Denali
Mileage: About 20 miles back and forth to attractions and meals, and a 60-mile bus ride will let you relax (as long as you don't look over the edge of the road)
Highlights: Rafting class IV rapids and relaxing on a safari-like tour
The scant darkness means the day can be as long as you want it to be, so start early, before breakfast, with a whitewater tour of the Nenana River with Denali Rafting. Drysuits are provided to shield you from the 34-degree water, but layer your socks and consider bringing gloves or handwarmers — the 11-mile raft ride gets chilly. On our tour, we saw a mother moose and her calf walking on the banks of the river, our first major wildlife sighting in Denali.
After rafting, dry off and grab lunch near the park before embarking on the Tundra Wilderness Tour ($154/ticket). This eight-hour bus ride (it's better than it sounds) takes visitors further into Denali than you could go on your own. During the 60-plus mile ride, a naturalist-slash-bus-driver points out wildlife including sheep, caribou, eagles, bears and much more. During our trip, we saw a grizzly and her cubs approach the bus for an amazingly close view.
For a late dinner (the bus tour only provides a healthy snack box), stop into Denali Salmon Bake, a retro fish shack serving up comfort food and craft beer in oversize booths.
Day 5: Get up close to bears at a remote national park
Mileage: 243 miles from Denali back to Anchorage
Highlights: Seeing brown bears up close
Prepare for about four hours of driving, returning through Wasilla and then back to Anchorage. Pace yourself accordingly and eat lunch before checking in at Rust's Flying Service for a bear viewing tour ($695 to $895/person).
The 90-minute flight to Lake Clark National Park overlooks glaciers, a volcano and more impressive natural wonders. Bear viewing spots vary based on season and where bears are eating.
Any regret of booking the potentially petrifying tour will subside once you approach the first bear viewing site in a remote national park that few get to visit. Here, grizzlies graze on the grass, mostly oblivious to the humans spying on their all-day eating rituals.
Two more viewing spots in the forest, located just off the gorgeous shores of the lake (bears are also spotted digging up clams here) prove the tour extremely worthwhile.
Grab dinner in Anchorage and stay the night in the hotel of your choice.
Day 6: Dog Day
Mileage: 39 miles from Anchorage to Girdwood, plus shuttling a few miles around Girdwood for local attractions
Highlights: Meeting 60 dogs, plus puppies, and riding a dogsled
If you want to dogsled in the summer in this part of Alaska, you need to be transported by air to a glacier. Don't worry about the gear for the cold climate — Alpine Air, which leads the dogsledding tours, provides waterproof layers for the adventure.
A 10-minute helicopter ride (much smoother than a tiny plane ride) lifts dogsledders onto the snow-covered Punch Bowl Glacier, where dozens of dogs and their dogloos (that's an outdoor dog house) greet visitors with barks and howls, displaying obvious excitement to race around a two-mile dogsledding path. A musher lines up a team of dogs and one passenger sits on the sled, while the other stands behind to assist when the dogs jut off in a snowy, exhilarating ride. Our musher recommended booking the earliest morning tour for the best snow on the track.
Nothing can top this experience, so take the day to reconsider your career goals (the Iditarod allegedly needs new talent!) and explore the ski town of Girdwood.
In Girdwood, ride the tram up to the top of the Alyeska Resort for more glacier views; explore Crow Creek Gold Mine (where you can pan for gold, if you want to get wet, cold and disappointed); grab a pint at Girdwood Brewing Company; and stuff your face at the Double Musky Inn, Jack Sprat or one of the resort's several restaurants.
Day 7: Cruise by 26 glaciers
Mileage: 26 miles from Girdwood to Whittier, then 188 miles from Whittier to Homer
Highlights: Seeing glaciers, drinking a glacier margarita and drinking at a legendary bar in Homer
Everyone says you have to get out on the water in Alaska, so head out to Whittier — a tiny fishing town accessible only by the cave-like Whittier Tunnel — for a glacier cruise. If you're more of a fishing person, you could also wake up at the crack of dawn to book a fishing tour, but we opted for the 26 Glacier Cruise ($159/adult), in which you indeed cruise by 26 glaciers.
Lunch is served onboard and there's spiked hot chocolate at the bar to keep you interested during the five-hour tour. The glaciers are pretty remarkable, and equally as notable is the floating glacier ice crew members pull on board to make electric blue (dyed syrup) frozen margaritas in souvenir glasses.
Drive out of Whittier when the tunnel opens at 6 p.m. to Homer. While dinner options are few and far between on the highway (as is cell service, so pre-download your driving routes from Google Maps for this part of the journey), you can stop in the roadside Kingfisher Roadhouse for a legitimately scrumptious dinner.
Whatever time you arrive in Homer, it will still be light out, so you can grab a drink at the legendary Salty Dawg Saloon, a cash-only dive bar covered in dollar bills and other memorabilia signed by guests from around the globe.
Day 8: Venture out to Halibut Cove
Mileage: Park the car and walk around for a change
Highlights: Eating on a remote island accessible only by boat
Spend the day exploring Homer at your leisure, strolling on the beach, shopping for souvenirs and indulging in a scoop of ice cream on the Homer Spit boardwalk and imbibing in a fruit wine tasting at Bear Creek Winery.
Fans of the Discovery series Alaska: The Last Frontier can venture out to the Kilcher Living Homestead Museum for a tour of the cabin the reality stars grew up in, as well as some inside info on subsistence living.
At night, board the 5 p.m. Danny J Ferry ($63/person round trip) to the island of Halibut Cove, where you'll dine at The Saltry, a seafood-focused restaurant serving fresh fish dishes nearly straight out of the bay. While you eat, you can take in jaw-dropping landscape views before exploring Halibut Cove (population 76) and returning back to Homer via the ferry.
Day 9: Explore Homer and return to Anchorage
Mileage: 226 miles from Homer to Anchorage
Highlights: Filling up on Alaskan treats before jetting off
To make the most of your last day in Alaska, book a red-eye return flight, leaving ample time to drive back to Anchorage and a bonus day to explore both Homer and Anchorage. In Anchorage, shop for your very last screenprinted bear T-shirt, grab a reindeer dog on the street and wait in line for Wild Scoops for a baked Alaska cone filled with Alaskan-made ice cream — one last sweet taste of the 49th state. Still hungry? Pull over at Ray's Place for Vietnamese cuisine on the way to the airport and grab a jumbo bowl of pho to soothe you as you reluctantly end the best road trip of your life.