Jake-Jamie Ward to be first male spokesmodel repping face masks for U.K. beauty brand Soap & Glory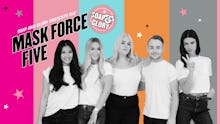 In 2016, beauty blogger Jake-Jamie Ward launched his online campaign #MakeupIsGenderless to show everyone on the internet that to wear makeup, you don't have to be any specific gender.
One year later, and it's clear that beauty brands have heard his call. In early 2017, Ward, who's known as the Beauty Boy, landed his first beauty campaign, becoming L'Oreal's first male spokesperson in the U.K. Now he's got another campaign for the cheeky U.K. beauty brand Soap & Glory, where he's their first male spokesmodel yet again, now advertising face masks.
"It makes me feel incredibly humble and extremely proud to be a part of what I feel is history in the making," Ward said in an interview. "I hope that one day it will be as natural for men to be seen purchasing beauty supplies (without the stigma attached) as it is for women. That's my dream and with each passing campaign, I feel it edging ever closer and that's an incredible feeling."
As for Soap & Glory, bringing in Ward only felt natural for the brand.
"For this particular launch we wanted to work with a squad of influencers (one for each of the new face masks) and Jake immediately sprung to mind," a Soap & Glory spokesperson said. "The fact that he is a guy in the beauty industry definitely makes him stand out, and we love that! His personality is a great fit with ours and we thought he'd be a perfect addition to our Mask Force line-up."
Obviously men in the beauty world have been making massive strides in the past few months, from James Charles over at CoverGirl to Manny Gutierrez at Maybelline. Though Ward has been fighting for change like this, all of this change happening so quickly isn't something he expected.
"Never in my wildest dreams did I expect to see such rapid movement across the industry," Ward said. "It's been flipped on its head and waves are being made! 2016 [and 2017] have been history-making years for men in beauty and long may it continue."
With so many brands taking note of Ward's passion around bringing men into the beauty conversation, he said he hopes this inclusivity continues for men like him and beyond.
"I just want to ensure that I keep doing my bit to ensure that people are well-informed and that the campaigns keep heading in the right direction," Ward said. "I love makeup and I love skincare. It's my passion, so being able to work in this industry (as a male, in 2017) is a indescribable feeling. Who knows what will happen in the next few years, but if the last few years are anything to go by, then there are exciting times ahead."