How the media covers "honor killings" reveals a double standard against women of different religions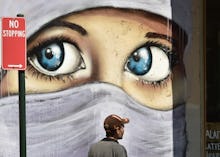 On Sunday, Israeli authorities arrested an Arab Christian father in Ramle — a central city in Israel — for allegedly killing his 17-year-old daughter after learning she was falling in love with a Muslim boy.
Sami Karra allegedly killed his daughter, Henriette, on June 13, one day after her high school graduation. According to Israeli authorities, Karra's motive was based on his "vehement opposition" to her relationship with her Muslim boyfriend and her intentions to become a Muslim.
Henriette's boyfriend, who remains unidentified, was in prison at the time and due to be released by the end of that week. Henriette reportedly said she was planning on converting to Islam the day her boyfriend was freed. Later that day, Henriette was found dead in her parents' kitchen with multiple stab wounds to her neck.
Darakshan Raja, the founder of the Muslim American Women's Policy Forum, noted a double standard in the media coverage on Henriette's death. She said that if Karra were Muslim and killed Henriette for wanting to convert to Christianity and falling in love with her Christian boyfriend, the alleged murder would be described as an "honor killing."
An honor killing is the murder of a relative, particularly a girl or woman, who is perceived as bringing dishonor to the family. According to the Honour Based Violence Awareness Network, an estimated 5,000 honor killings happen worldwide each year.
"If it had been a Muslim father, then [the murder] would further be weaponized to push the framing that Muslim men are controlling, abusive and violent," Raja said in an email.
Raja said "honor killing" is not the appropriate term for these killings and that it has been used as a moniker for domestic violence.
"Rather than centering the individual killed and positioning it as gender-based violence, because unfortunately many women — irrespective of faith and race — are murdered at the hands of men they know," she said. "This is a universal issue and isn't specific to any one community."
An alleged history of domestic violence in Henriette's family
Two weeks before her death, Henriette reportedly ran away from home after her family allegedly beat her and told her to break up with her Muslim boyfriend, Haaretz reported. She stayed with a friend, then lived with her boyfriend's mother for the time being. According to Newsweek, the family continued to make threats toward Henriette and her boyfriend's mother as an attempt to bring her back home.
Henriette made several calls to the police to report incidents of violence by her parents, Newsweek reported. On June 11, Israeli police and social services held a meeting with the family. Henriette wanted to live in her own apartment, but after the meeting, she was told she had to return home.
Honor killing cases have been used as bait to round up support for anti-Muslim and xenophobic policies. The most notable example of this is President Donald Trump citing the killing of Pakistani celebrity Qandeel Baloch to justify his ban against Muslims entering the country. Other high profile examples are Samia Sarwar, Samaira Nazir and Ghazala Khan. Honor killings are often depicted as a part of practicing Islam. However, there is no mention of honor killings in the Quran or the killing of innocent women. Killing people is strictly forbidden in Islam. Henriette's death proves that allegedly killing a daughter because she isn't honoring the family's religion or cultural practice isn't exclusive to Muslims.
In addition to it being an orientalist term — or a word that paints the Middle East as underdeveloped or barbaric — Raja said "honor killing" legitimizes forms of violence as rooted in honor.
"In truth there is no honor [in these killings]," Raja said. "The underlying issues of patriarchy, family violence and the control over women in some cases need to be centered."
According to a recent study, domestic violence within some religious communities is occurring at similar rates. A March 2017 study from the Institute for Social Policy and Understanding found that 13% of Muslims knew someone in their community who was a victim of domestic violence compared to 15% of Catholics and 17% of Protestants. In fact, in addition to reporting to law enforcement, Muslims are more likely than other religious groups to report domestic violence to their faith leaders.
Data on domestic violence against women is alarming
In the U.S., 94% of female homicide victims, whose relationship with the offender could be identified, were killed either by a known male relative or acquaintance in 2013, according to a report released from the Violence Policy Center in September 2015.
The rate for domestic violence against women from intimate male partners are far more staggering. According to data from James A. Fox, a criminology professor at Northeastern University, 15,462 women were killed by their romantic partners from 2002 to 2012. Between 2006 and 2014, approximately 6,875 people were fatally shot by their romantic partners, according to FBI crime data. More than 80% of the victims were women. According to the Trace, a nonprofit news organization that covers gun crimes, about 554 U.S. women are fatally shot by their romantic partners annually. In other words, one American woman is killed by an intimate partner every 16 hours — and that only accounts for homicides involving a firearm.
"The bottom line is this: male violence is the leading cause of death for women around the world," Rana Abdelhamid, founder and CEO of the Women's Initiative for Self-Empowerment, said in an email. "Those working in policy and media should work hand-in-hand to de-stigmatize [the act of] reporting violence, and create safe havens for women victims and survivors."
Abdelhamid urges reporters and bloggers to move past the orientalist lens when covering violence against women in the Middle East, North Africa and South Asia. She also said moving away from viewing domestic violence against Muslim women as honor killings could "help build solidarity across women's movements and remove several layers of barriers that women face in reporting and fighting against this form of violence."
"It's horrifying that [Henriette's] life ended this way," Abdelhamid said. "We must create the environment for this to not happen again."