Steve Bannon apparently called Paul Ryan a "limp-dick motherf*cker"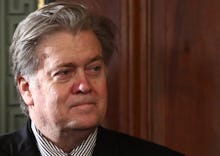 White House chief strategist Steve Bannon is not a fan of House Speaker Paul Ryan, once calling the Wisconsin Republican a "a limp-dick motherfucker who was born in a petri dish at the Heritage Foundation," according to a new book by Bloomberg News reporter Joshua Green.
In his book, Devil's Bargain: Steve Bannon, Donald Trump and the Storming of the Presidency, Green writes that the comment came ahead of the Republican National Convention.
At the time, anti-Trump forces were hoping to contest the convention and give the Republican nomination to someone like Ryan, whom the Never Trump crowd thought had a better shot of winning the White House.
The possibility "sent Bannon into a panic of his own," Green wrote in the book, according to Talking Points Memo. Bannon also thought Ryan was part of what he termed the "globalist donor class" — a term seen as an anti-Semitic dog whistle.
While the anti-Trump forces made a lot of noise at the RNC in July, Trump went on to win the nomination — and of course the White House. Ryan has since embraced Trump, voicing tepid or oftentimes no disapproval when Trump finds himself on the receiving end of negative press.