The 'Bachelor in Paradise' season 4 trailer is playing up the sex scandal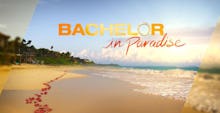 Bachelor in Paradise was almost canceled because of sexual misconduct allegations — and now the reality series is playing up the scandal in the first promo video for season four.
The teaser for the upcoming season of The Bachelor spinoff plays off the news of the set being shut down in June after a producer complained about cameras filming a hookup between contestants DeMario Jackson and Corinne Olympios.
"The sun had almost set. Summer was almost ruined. Paradise was almost lost," a voice-over says as tweets from "heartbroken" fans fill the screen. "Until it wasn't."
Um, "summer was almost ruined" because someone was concerned that a woman drank too much to consent to sex.
Forget about the potential love stories. Bachelor in Paradise is attempting to pull viewers into the new season by referencing the Jackson and Olympios controversy. It's certainly not the first time the franchise has played up drama — just think back to the Kenny vs. Lee storyline from the latest season of The Bachelorette — but it's a tasteless move considering how serious the allegations were.
For those who so quickly forgot, filming on the season four set was suspended so Warner Bros. could investigate "allegations of misconduct." TMZ and People reported that Jackson and Olympios hooked up in the pool after drinking, and that a producer was "uncomfortable" with what was filmed.
Shortly after the news broke, Jackson clarified that he wasn't under investigation, and that the video would prove Olympios was lucid. But Olympios hired a lawyer and released a statement naming herself a victim.
I am a victim and have spent the last week trying to make sense of what happened the June 4. Although I have little memory of that night, something bad obviously took place, which I understand is why production on the show has now been suspended and a producer on the show has filed a complaint against the production.
As a woman, this is my worst nightmare and it has now become my reality. As I pursue the details and facts surrounding that night and the immediate days after, I have retained a group of professionals to ensure that what happened on June 4 comes to light and I can continue my life, including hiring an attorney to obtain justice and seeking therapy to begin dealing with the physical and emotional trauma stemming from that evening.
Warner Bros. ultimately found that there was no misconduct. However, new rules were put in place to prevent contestants from drinking too much and from entering the "Boom Boom Room" without permission. The cast returned to Mexico to film, sans Olympios and Jackson, who are only coming back for the Bachelor in Paradise season four reunion.
Mic has ongoing 'Bachelor in Paradise' coverage. Check out our main 'Bachelor in Paradise' hub here.