The NRA releases another horrifying ad, this time threatening journalists and politicians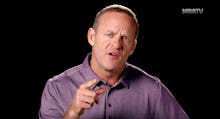 It's getting harder to believe that the National Rifle Association isn't calling for violence against liberals.
The gun rights group is back with a new video equating the news media with violent, organized anarchy, referring to news outlets as a "Leftist media propaganda machine defending the violent left." The latest video specifically targets the Washington Post, and repeatedly names one general assignment reporter in particular.
"You people do more to damage our country with a keyboard than every NRA member combined has ever done with a firearm," NRA TV host Grant Stinchfield said in a video op-ed.
This new op-ed follows another, more controversial video from the NRA: an advertisement that many saw as a call to arms against protesters and the First Amendment. In the ad, conservative commentator Dana Loesch rails against liberals who "use their schools to teach children that their president is another Hitler," telling viewers to "fight this violence of lies with a clenched fist of truth."
The first ad was met with parodies, a response from a Black Lives Matter chapter and days of protests from the Women's March on Washington organizers.
The darker, perhaps more dangerous allegation in the video, besides the common refrain among conservatives that the Washington Post is a "fake news outlet," is the insinuation that recent violent protests are the work of popular Democratic politicians and activists, who "organize anarchy" and do the work of the "violent left" (or, at very least, not condemn violent protest). The video implies that Senator Al Franken, Senator Chuck Schumer and podcaster and activist DeRay McKesson are somehow responsible for recent anarchist black blocs.
There is no evidence to support any of these claims. Antifa counter-protests are generally organized by local activists and are totally unfunded. The largest, more visible riot this year were the DisruptJ20 protests on Inauguration Day, and were planned by Bush-era anti-war activists in a local church.
Additionally, those named in the video often have spoken out explicitly against violent protest, like Senator Al Franken's call for protesters to "resist the temptation to engage in violence," last July.
Neither of the ads explicitly call for violence. Instead, they talk about the "clenched fist" of truth, and NRA members "rising up" — language that calls on gun owners to respond to a violence that the NRA calls a "violence of lies."
"It's why we'll never stop fighting the violent left on the battlefield of truth," Stinchfield said.