'Kingdom Hearts 3' Worlds: There will be fewer, but they include 'Toy Story' and 'Big Hero 6'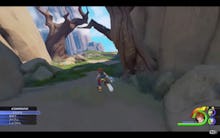 Kingdom Hearts 3 will include fewer Disney stages than previous titles in the Square-Enix-Disney crossover series. This is according to a NeoGAF user, who presented translated points from an interview with Kingdom Hearts game director Tetsuya Nomura.
As user KZXcellent lays out in the post, Nomura has spend a lot of time negotiating with Disney in order to get his hands on one franchise he's wanted for a while: Toy Story. It seems Nomura has wanted to make a Toy Story world since Kingdom Hearts 2, and it's finally coming together for him.
Big Hero 6 will also have a new world, but there aren't many released details on that.
Kingdom Hearts 3 worlds: There will be fewer to traverse and that's a good thing
Another note in the interview is that there will be fewer Disney worlds in Kingdom Hearts 3, as compared to Kingdom Hearts 2. As GameInformer points out, he said something similar at D23.
"Rather than having multiple different little worlds, we wanted to make sure we're providing rich gameplay in an individual world, so we put in a lot of effort and allocated a lot of resources to create these worlds, and it would be sad for players not to enjoy the world and breeze right through it. Therefore, we made sure that each of the worlds is designed so players can take their time and enjoy the gameplay that's available."
With the beautiful graphics we've seen presented for the game so far, it's hard to be mad at the focus on detail that Nomura and his team are putting into the game — even if it comes at the cost of more worlds to explore.
More gaming news and updates
Check out the latest from Mic, like this deep dive into the cultural origins of Gamergate. Also, be sure to read this essay about what it's like to cosplay while black, a round-up of family-friendly games to play with your kids and our interview with Adi Shankar, producer of the animated Castlevania Netflix series.