'Overwatch' Doomfist: Terry Crews didn't want to "hijack" game — still wants to work with Blizzard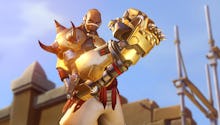 Now that Blizzard has officially unveiled its vision for the long-rumored Overwatch character Doomfist, Terry Crews — who fans hoped would lend his voice to the character — is speaking out about all those rumors.
Terry Crews on Overwatch Doomfist rumors: "I don't wanna be the guy that hijacks a game."
In an interview with PC Gamer, Crews confessed he's ultimately happy he didn't have a hand in Blizzard's depiction of Doomfist — though, from his comments, it sounds like it was a possibility.
"It's funny because when I went down to Blizzard and we were talking about possibilities, I realized that I don't wanna be the guy that hijacks a game, you know?" Crews said. "The creators have a vision and I didn't want to mess that up. I was not interested in trying to hijack the game, I let them know that whatever fitted in their program, I would love to do.
"When I saw that Doomfist was created — that they'd went with another guy — the whole thing, it's actually quite perfect, it's absolutely amazing," Crews continued. "I can honestly say that they made a move that's better for the game, which is what they're about. I know people were upset but I'm not."
If you're one of the heartbroken fans who had your heart set on hearing Crews in Overwatch, don't worry: Crews seemed to think there was a possibility of him collaborating with Blizzard in the future.
"If I ever do do anything with Blizzard, you watch: It'll be perfect," he said. "With those guys, we're all friends, we're all good. I think there will be something coming down the line."
What that might be is anyone's guess. You can read the rest of the interview over on PC Gamer.
More Overwatch news and events
For more on Overwatch, check out the rest of what Mic has to offer. Here is an intro to the cute, new "Wholesome Overwatch" subreddit, a look at some gorgeous Overwatch-themed PS4 and Xbox One controllers, a cool Easter Egg in the new Horizon Lunar Colony map and a criticism of Blizzard's failures in its design of Symmetra.