Social media star Jake Paul accused of turning LA neighborhood into a "living hell" and "war zone"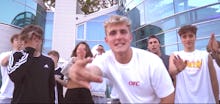 Jake Paul, a 20-year-old Disney star and "influencer" with nearly 25 million followers across social media, has been accused of turning his Los Angeles neighborhood into a "living hell" for the families that populate the area.
Paul lives in a West Hollywood rental property with a rotating cast of fellow influencers. He and his "squad" have parties and do stunts on the property. One recent stunt involved setting furniture on fire in the backyard. A giant blaze ensued with flames reaching the top of the house, neighbors said.
According to KTLA, neighbors complain that the previously peaceful neighborhood has been transformed into a circus and Jake Paul could not care less. He regularly publicizes his address and relishes in the hoards of young fans and their parents who swarm the streets hoping to catch a glimpse of the star.
You can watch KTLA's full interview with the star here, which I highly recommend doing.
"The neighbors hate me," he says when a KTLA film crew arrives at his property.
When the KTLA reporter questions him further, Paul appears unfazed.
"Yeah, it is like that," he says in response to the reporter saying residents have called the block a "circus" since he arrived. "But, I mean, people like going to circuses."
KTLA's video then cuts to Paul running screaming through the streets with his friends and climbing on top of the KTLA news van and shouting to the crowd below.
One of Paul's neighbors, Maytal Dahan, says for them this not a joke. "It used to be a really nice, quiet street and now [it's] just this, like, war zone," she tells KTLA in the news clip. "We're families here and we're more than happy to have them live here if they're respectful of their neighbors, but they're not."
Next week, neighbors are holding a meeting with city leaders, police and code enforcement officials to consider whether or not to file a class-action public nuisance lawsuit against Paul and the homeowner.
"It's terrible, it's a bad situation and I feel bad for them, but there's nothing we can do," Paul responds. "Jake Paulers are the strongest army out there.
"Dab," he adds, before dabbing onscreen.
Before signing off the newscast, Paul also turns his camera on the KTLA reporter. He points at his shoes and yells, "What are thoooose?" before running away with his friends.
"These Tubeguys" have "got to go"
Mic spoke with two residents of the neighborhood on Thursday. We also obtained transcripts of Jake Paul-related complaints on the local community message board.
In the transcripts, residents plead with their neighbors to help them deal with the social media star's antics. In one thread titled "U tubers have got to go," a resident begs the community for help.
"What can we do to move these 'wasters' on?" she writes. "Soon someone is going to be hurt with these youngsters hanging around the middle of the road."
The local resident then posts a follow up thread outlining a scheme to handicap Paul's viral fame.
"We need to hit these wasters where it hurts them post: their pocketbooks." she writes. "These Tubeguys are making $$$ from people watching their standing-in-street videos. If we all agree to only watch videos taking place inside homes (where let's face it, they rarely cause congestion), the street video market will quickly tank and they have to rethink their entire business model. But it's going to take everything in the neighborhood to get this done."
Unfortunately for the local families who live by Paul, it's unlikely they'll have any direct ability to thwart his fame.
Paul's YouTube videos rack up millions of views soon after they're posted. Even if every resident in the neighborhood boycotted his content, it wouldn't be a blip on his radar.
A summer of drama
In June, Paul was accused of emotionally abusing his ex-girlfriend, model Alissa Violet, and the two publicly sparred on social media.
Paul runs his own influencer agency called Team 10 and, according to his ex, who was once a Team 10 member herself, he uses the agency to pick up women.
Violet also accused Paul throwing her and her belongings out on the street without warning and cutting her off without cause. Despite bashing her publicly, Violet says Paul still receives 20% of her earnings thanks to a contract she signed when she joined his agency.
The two have subsequently released diss tracks on each other.
Jake initially rose to fame on the six-second video platform Vine. His brother, Logan Paul, is also a social media influencer; Jake started out as his protege. Now, he has eclipsed his older brother in the eyes of many fans. The two are still tight and regularly appear in each other's videos.