'Destiny 2' Beta Servers Down: What to do if the game isn't working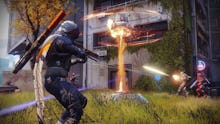 The Destiny 2 beta starts for some today and trickles out to others over the course of the next week. That's very exciting. But betas can be fickle, as the idea is to stress test the servers in the event of lots of people trying to log in at once. That means you should expect at least one point where the servers are on fire during the beta.
What to do if the Destiny 2 beta servers are down
If you find yourself in a situation where you can't reliably get into the Destiny 2 beta, your options are the same as with any other online game with the same problem. Here's what I recommend:
See if other people have the same problem
Whenever I'm having a problem with an online game or service, I search on Twitter to see if other people are having the same issue. If Destiny 2's beta isn't working, search "Destiny 2" on Twitter, filter by the latest posts and see what's up. If a bunch of other people are yelling into the ether about it, you know you're not alone.
See what Bungie's support feed is saying
Even if you hate Twitter, it's useful in situations like this. @BungieHelp seems to be the social feed where Bungie would provide updates about server instability, if such a thing were to happen. If things are bad, keep refreshing that page until Bungie provides something useful.
Just keep trying to get in
Eventually, the servers will work again. Keep trying to get in until you get bored or you get in, whichever comes first. Log off, read a book, pet a dog, go on a run or do any number of other things for a while before trying again if things are really out of control. The game will not be dead forever. We promise.
If all else fails, just play Destiny
If you absolutely must experience Bungie's brand of loot-driven shooting by any means necessary and the Destiny 2 beta servers are down for an extended period of time, you might as well play the first game. I haven't checked in on it in a while, but I assume it's still fine. Those daily quests and weekly heroics won't complete themselves.
More Destiny 2 news and updates
If you can't wait to get back out on patrol with your Fireteam, check out the rest of our coverage for Destiny 2. We've got coverage about why Bungie opted not to use dedicated servers for the sequel, why there won't be cross-play and cross-saves for PC and what you can expect from the game's PC specs and Battle.net partnership. Additionally, you can check out the new Supers being added to the game, some details behind guided games and the new Crucible changes as well. Finally, you can check out our ongoing coverage of the beta here.