Tabloids tried to shame newly crowned Dr. Who with professional nudes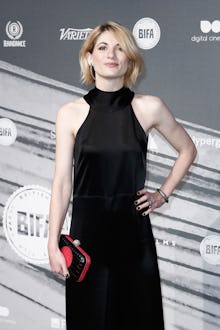 As soon as it was announced that British actress Jodie Whittaker would be the first-ever woman Dr. Who, men got mad. And, as the Guardian reported, many tabloids took it upon themselves to publish nudes and other compromising photos of the actress, pulled from her previous work.
The UK Sun, the Daily Mirror, the Daily Express, the Daily Star and the Mail Online — owned by the Daily Mail, a tabloid prone to occasional fits of sexism — all ran stills of Whittaker either naked or topless in earlier roles. To be fair, the Mail Online also published similar (albeit more clothed) shots of former Dr. Whos (which is to say, all male Dr. Whos) under the headline "Doctor Nude!" The Sun reportedly honed in on Whittaker's "saucy screen past," while other outlets went for less subtle "Dr. Who REVEALED" angles.
These were not personal nudes, they were examples of Whittaker engaged in the work she was contracted to do as an actress. It's a bit of a cheap shot to publish them because, as a woman, Whittaker's work is more likely to include some nudity: Within the 100 top-grossing Hollywood films of 2014, women were thrice as likely as men to appear onscreen partially or fully naked. Statistically speaking, the people who pulled screen shots of Whittaker engaged in "saucy" acts should have more examples to choose from in reviewing her work than they would in mining the portfolio of her Dr. Who predecessor, Peter Capaldi.
Men distributing revealing photos of women with an eye toward shaming them, and in an effort to tarnish their careers, is really nothing new. If anything, topless stills from Whittaker's past performances simply prove she is ready and able to do what a role requires of her, even if the standard is sexist.
Whittaker, who previously starred in the crime series Broadchurch, is the first woman to play Dr. Who in the series' over-50-year run. While some critics have groused about the fact that the doctor is, in conception, an old man with archaic views about gender roles, many fans rejoiced over the casting shake-up. Women are infamously underrepresented in television and film, often relegated to lesser roles with fewer lines.
Celebratory fans seemed gratified at seeing a woman step into a leading part, as does Whittaker, who has soothing words for seething male viewers.
"I want to tell the fans not to be scared by my gender," Whittaker told the BBC. "Because this is a really exciting time, and Doctor Who represents everything that's exciting about change."
"The fans have lived through so many changes," she added, "and this is only a new, different one, not a fearful one."