China just introduced a self-driving boat and drones that can save drowning people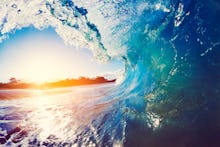 A large lake in eastern China has claimed dozens of lives since 2004, but new technology is changing that. Around 66 people have drowned at Tian'e Lake, located in China's Anhui province, since 2004, including 15 deaths in 2016 alone. Now, the roughly 33 lifeguards stationed at the lake are equipped with technology to keep the death count low, if not entirely nonexistent, Mashable reported Tuesday.
The first tool is a drone. The lifeguards have the option to utilize three drones to deliver medical supplies, food and life preservers to those stranded.
The second tool is an autonomous watercraft loaded with a GPS, cameras and acoustic and infrared sensors. According to state-run media site China Daily, the boat is designed to spot "moving targets." It communicates with about 20 sensors around the 172-acre lake's perimeter, and a radio transmitter helps map out "safe" and "dangerous" zones of the lake, Mashable reported.
The boat's function is twofold. First, it warns swimmers who enter the "danger zones" to keep out. Second, a swimmer who latches onto the boat can be brought to a safer part of the lake.
"If someone struggles in the lake, the patrol boat can use sonar and other underwater detectors to track the location of the swimmer and call for help," Wang Xu, a branch director of Hefei police, said, according to Mashable.
Autonomous watercraft are saving lives outside of China as well: The Hellenic Red Cross has used EMILY — the Emergency Integrated Lifesaving Lanyard, a 4-foot-long remote-controlled autonomous life buoy — to help save refugees in the Mediterranean. Created by an Arizona-based robotics company called Hydronalix, EMILY is can have up to eight people grab on.
The initiative at Tian'e Lake, which receives tens of thousands of visitors a day during the peak season, launched in November, and since then, nobody has drowned, according to Mashable.
"In the future, most of the lifeguards will be replaced by the robot," Zhang Bao, the deputy general manager at Anhui CAS-Huacheng Intelligent Technology —one of the companies that helped create the autonomous boat — told Mashable. "The boat ... can be used to patrol rivers, reservoirs, lakes and seas — not only for security purposes but also for environmental surveillance and data collection."