'Super Smash Bros 4' Amiibo: Cloud, Corrin and Bayonetta are nearly here. You can preorder now.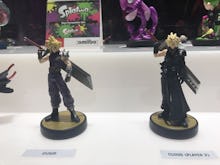 While Super Smash Bros. 4 for Nintendo Switch isn't here yet, the game on Wii U and 3DS has been out for a while. Since 2014, fans have been able to play Smash Bros. on their Nintendo platform of choice — just not the Switch — but not all of the game's characters had corresponding amiibo. The lineup of NFC-enabled figurines was missing three key characters: Cloud, Corrin and Bayonetta. Now you can finally buy them.
Super Smash Bros. 4 amiibo: How to buy Cloud, Corrin and Bayonetta
Gamestop currently has preorders available for the final three Smash Bros. amiibo. Cloud's amiibo can be found here; the player two costume swap is an exclusive to the store. They also have Bayonetta and Corrin amiibo for preorder before their official release on Friday.
You can also preorder the amiibo at Best Buy, which is the only place where you can get player two Bayonetta. They also offer regular Corrin and Cloud amiibo, with regular Bayo coming soon.
Walmart also allows for preorders. Corrin, Bayonetta and Cloud can all be purchased early.
Other places like Amazon — the exclusive seller of player two Corrin — and Target feature "coming soon" or "currently unavailable" banners on their site with regard to the amiibo, so Best Buy, GameStop or Walmart are your best bets.
Super Smash Bros. 4 amiibo: What do they look like?
Some amiibo only get one version, but not these three. Cloud and Bayonetta get costume swaps while Corrin buyers can choose the character's gender — fitting for the Fire Emblem character you can customize.
With both the Cloud and Bayonetta amiibos, you can choose your preferred outfit. Cloud's clothing reflects how the character dressed in the original Final Fantasy 7 as well as his more modern Advent Children look, while Bayonetta's clothing represents changes between the first and second games.
If you want one of these new amiibo, you should probably make your purchase as soon as possible. While Nintendo restocks its NFC toys regularly enough, some can be extremely hard to find. Then again, who knows — you may even get your amiibo early.
More Nintendo gaming news and coverage
Check out more video game content on Mic, including which Pokémon are actually the best and why black players can never seem to get custom characters that look like them. Learn more about how blind gamers are getting in on the fun and that Injustice 2 appears to be nerfing its female characters. See why we love Twintelle (and why we hate Twintelle) in the upcoming Arms, and don't miss our guide to dodging blue shells in the Mario Kart 8 Deluxe — you can thank us later.