'Batman: The Telltale Series' Season 2 Release Date: There are some hints that the game is coming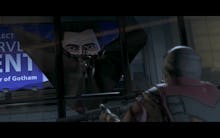 For better or for worse, sometimes game announcements are leaked before anything official has gotten out — and this might be the case for the sequel to Batman: The Telltale Series.
According to a DualShockers post, a rating listing in New Zealand mentioned the name of a potential upcoming title, Batman: The Enemy Within. To add to the suspicion that this might be a sequel, the listing also shows that Kent Mudle, the same director as Batman: The Telltale Series, is working on the project.
In addition, Telltale Games tweeted a hint that something will be announced at this year's San Diego Comic-Con — which would be the perfect place for a Batman-related update. Until then, there's no confirmation on release date, let alone the existence of the game.
More gaming news and updates
Check out the latest from Mic, like this deep dive into the cultural origins of Gamergate. Also, be sure to read this essay about what it's like to cosplay while black, a roundup of family-friendly games to play with your kids and our interview with Adi Shankar, producer of the animated Castlevania Netflix series.