Poll: Biden, Sanders, Warren and others would beat Trump if race were held today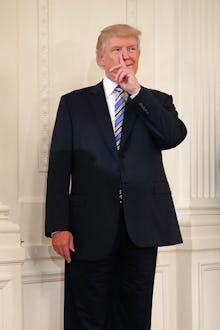 President Donald Trump — mired in a Russia scandal that just won't go away and fresh off his latest stinging defeat on health care — would be handily beaten in a head-to-head contest against former Vice President Joe Biden, Sen. Bernie Sanders, Sen. Elizabeth Warren and others, according to a new poll released Tuesday.
Public Policy Polling — a Democratic-aligned firm — polled 836 registered American voters between July 14 and July 17, and found that most did not believe the embattled president has made America great again.
Biden has the best numbers against Trump in the new poll — he would beat Trump 54 to 39, according to PPP. Sanders would also decisively beat Trump, based on the projections. Among the respondents, the Vermont senator would win 52 to 39 over Trump in a hypothetical race.
None of the results in the poll reflect state-by-state or Electoral College numbers, which, of course, would be at the heart of a true presidential race.
Warren, a Democratic senator from Massachusetts; Cory Booker, a Democratic senator from New Jersey and Kamala Harris, a Democratic senator from California — all of whom have been suggested to be eyeing 2020 runs for the White House — also beat out Trump in the PPP survey. They edge him out 49 to 42, 45 to 40 and 41 to 40, respectively.
Perhaps most remarkably, the poll has Trump neck-and-neck with Facebook founder Mark Zuckerberg, who — like Trump when he ran in 2016 — has no prior elected experience. Zuckerberg has been touring the country in what some see as laying the groundwork for a potential bid for office. PPP has Zuckerberg and Trump in a 40-to-40 wash.
There was some good news in the survey for Trump.
Most Trump voters polled — 72%, in fact — agree with the president that questions about his ties to Russia amount to nothing more than "fake news." Most don't approve of investigations into those Russia links, and almost half of the Trump supporters surveyed said they don't believe Donald Trump Jr. met with Russians to get dirt on Hillary Clinton — despite the president's son outright admitting as much.
Further, PPP asked Trump supporters about one of the president's most outrageous campaign statements in a race full of them — that he could "stand in the middle of Fifth Avenue and shoot somebody and [he] wouldn't lose any voters."
"45% say they would still approve of him even if he shot someone to 29% who say they would disapprove, and 26% who aren't sure one way or another," according to PPP.
PPP also found that Trump was polling significantly better than two of his top allies — House Speaker Paul Ryan and Senate Majority Leader Mitch McConnell. They are polling at just 24% and 18% approval, respectively — perhaps a reflection of their party's attempts to repeal and replace the Affordable Care Act, which PPP notes could have "big electoral implications in 2018." Three-fourths of respondents disapprove of Congress overall, the poll found.
However, Trump may have gotten what could be considered a win in a new, separate poll by Rasmussen — a polling firm that has been friendly to the president. Though Trump has suffered from dismal approval numbers, only 26% of likely voters surveyed by Rasmussen think Vice President Mike Pence would be a better option.