GOP plan to repeal Obamacare without a replacement is dead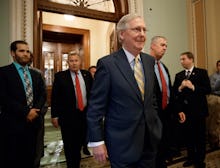 Senate Majority Leader Mitch McConnell's plan to vote on a repeal of the Affordable Care Act without a replacement ready to go is officially dead, after three Republican senators came out to say they do not support this new path forward.
Sens. Susan Collins of Maine, Shelley Moore Capito of West Virginia and Lisa Murkowski of Alaska all said they will even vote against debate on the plan, saying doing so would create chaos in the insurance marketplace.
That's enough to put Republicans below the 50 votes needed to advance this new strategy, and puts Republicans back at square one not 24 hours after a previous version of their health care reform bill failed.
Both Capito and Murkowski voted for a straight repeal of the ACA — better known as Obamacare — without a replacement back in 2015.
At the time, President Barack Obama was still in office, and made clear he would veto any legislation that would repeal his signature health care law without a replacement.
Now, President Donald Trump is in office and said he would sign the bill — which the non-partisan Congressional Budget Office estimates would cause 32 million people to lose their coverage and lead premiums to double over the next decade.