Who is Ike Kaveladze, the 8th person identified in the Donald Trump Jr. meeting?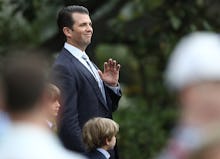 The eighth person to have attended a June 2016 meeting organized by Donald Trump Jr. at Trump Tower has been named as Ike Kaveladze — a senior vice president at one of Russia's leading real estate development companies.
On Tuesday, the Washington Post shed light on the identity of the previously unknown eighth attendee when it reported that Kaveladze's attorney, Scott Balber, had confirmed his client's presence at the meeting to a representative of special counsel Robert Mueller over the weekend. The revelation also amounted to the first public indication that the June 2016 rendezvous is being investigated at the federal level.
So who is Kaveladze, and how does he fit into the ever-expanding web of Trump's connections to Russian interests?
Who is Ike Kaveladze?
On his LinkedIn page, Kaveladze is listed as the vice president of Crocus Group — the company founded by Azerbaijani-Russian real estate mogul Aras Agalarov, who also hosted the Trump-owned Miss Universe pageant in Moscow in 2013.
Kaveladze reportedly attended the June Trump Tower meeting — which the president's son arranged with Kremlin-linked lawyer Natalia Veselnitskaya after being promised dirt on his father's chief political rival at the time, Democratic presidential candidate Hillary Clinton — at Agalarov's request.
According to CNN, Balber said that his client is a U.S. citizen who speaks Russian fluently, and who had expected to attend the meeting as a translator. Kaveladze, Balber said, has "never had any engagement with the Russian government in any capacity."
Despite repeated denials that meetings with Russian officials took place, top Trump campaign officials were, in fact, in attendance for the meeting, including Jared Kushner, the president's son-in-law and senior adviser, and Paul Manafort, Trump's former campaign manager.
News of the meeting's occurrence has led to louder accusations that the Trump campaign colluded with Russia in an attempt to sway the 2016 presidential election — claims that Trump Jr. and Trump himself both still roundly deny.
In defense of his son, Trump has said that Donald Jr. amounts to a "high-quality person" who would have done the same thing anyone else would have done when presented with potentially damning information on a political foe.
"Most politicians would have gone to a meeting like the one [Trump Jr.] attended in order to get info on an opponent," Trump tweeted on July 17. "That's politics!"