Venice's uncertain future is just one reason Andrew Zimmern has loved the city for decades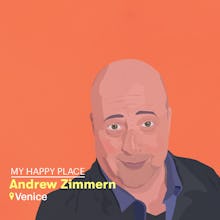 In My Happy Place, we talk to some of our favorite people about their emotional connection with an unforgettable destination.
TV personality Andrew Zimmern — whose Travel Channel series Bizarre Foods resumes its 11th season on Tuesday — is no stranger to good food. He worked as a chef for many years and later, when producing Bizarre Foods, scoured the globe for the best regional eats. Mic caught up with the James Beard Award winner to talk about Venice a place he says holds a special place in his heart. In every stage of his life, he's found something new to admire about the Italian city.
"It's either flooding or sinking. Every year people say, 'Oh this is the year Venice goes under, and never dries out again.' Because everyone there is living with that kind of fatalism on one hand, they truly live life with a great appreciation for every day when they get up in the morning. Then there's the physical beauty, the history — the place is just reeking of style. But it's the combination of historical perspective and inevitable doom that's in the back of every Venetian's mind. How long is this going to be around? Will it be available for my children? It gives them a different kind of humility and appreciation."
"Venice was a city that I first visited when I was about 11 years old with my father. We were there for a couple of days and I remember the scary thrill, as a little kid, of the old crumbly buildings, the dimly lit streets, the shadows as you pass through little alleys, the tiny little footbridges over narrow pieces of the canals as you walk form the hotel to a tiny restaurant for dinner that opened up onto a jewel of a courtyard."
"When I was 13, I went back with my best friend at the time and my dad and my dad's best friend's family. We were going to the Fenice opera house, shopping, enjoying the amazing seafood because we were there in the summer instead of the spring. Just falling in love with this amazing, truly one-of-a-kind city in the world."
"I went back when I was 18, traveling through Europe with one of my high school buddies. We did the summer backpacking thing and we were staying in a youth hostel. At the time, I was a sneaky little brat and because I had stayed at some fancier hotels with my father, I knew that we could walk into the hotel, ask a question at the front desk and see the boxes behind [the desk] where people's keys were inserted. It was 1979, the days before security and electronic key codes. Because [hotel guests] had to give keys back to the hotel whenever they left, we could [lie about our] room number to go down into the spa and shower and relax and get a massage and charge lunch to that person's room. It was very criminal but typical 18-year-old behavior, as far I was concerned."
"We met two English school teachers, young women who had just graduated university, who were going off to teach English as a second language in an Italian school. They had decided to take a weekend in Venice before checking in with their new job. My friend and I got to spend a couple of romantic days in Venice with girls that were a couple years older than us — it was naughty and delicious.
"I went back two or three years later when I was 20 or 21 and spent three months cooking in restaurants. I did an [internship] at a restaurant that's still open today called [La] Colomba, one of the amazing, old-school restaurants that's been open since the '50s or '60s there."
"[Venice] also has some of my favorite foods in all the world. Stop into any of the handful of bacaris [wine bars] where you can eat the cicchetti, tiny sandwiches, olives, small servings of fish, or little portions of entrees. There's a great row of bacaris along the Rialto Bridge. Some of my favorite orders are moscardini with polenta, nervetti and sarde in saor, which are sardines with onions and vinegar.
"I love strolling the Rialto Market, a grocery store and seafood store — that's an experience in and of itself. The market has been operating continuously for a thousand years. I love getting a cup of coffee at the hotel, watching the barges pull up before dawn. I always tell people, eat anywhere within 100 yards of the market and you'll be in for a great food experience."
"The cities of Murano and Burano are famous for their lace work, and their glass-blowing factories. There are restaurants out there, and some are the best in the whole Venetian area, and they don't get quite as crowded as ones in the city. Alla Madonna is a wonderful Italian eatery that has a single table on a little balcony overlooking the canal. They have another 20 tables inside but it's one of those restaurants that's got one great table."
"As I've gotten older, I've grown a new appreciation for this city because I'm a lot more mindful of the history. At one point, Venetians ruled what we think of as the modern Western world. Marco Polo was a Venetian. The doges [dukes] ruled their part of the world in a very honorable way. Obviously, then everything flipped around and the doges became almost meaningless on the international stage. Yet they had built this incredible city. To me, the Venetians handled that with such grace and dignity. They have a regal bearing, they know its a special city. The world is jealous of the city despite the fact that the geography has created a situation where disaster is coming at any moment."