'Overwatch' Doomfist Release Date: Here's when the newest hero is coming to consoles and PC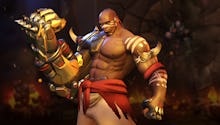 The Overwatch team has finally announced Doomfist's release date: He'll be punching his way onto the PS4, Xbox One and PC versions of Overwatch on July 27.
Overwatch: Doomfist release date announced in new behind-the-scenes video
In addition to the simple release date announcement, Blizzard also posted a behind-the-scenes video in which the Overwatch team explains that Doomfist's move set is an homage to classic 2-D fighting games. (In fact, there are some in-game references to his Street Fighter inspirations in his sprays and other cosmetic items.)
Like previous updates, it's likely that the patch ushering in Doomfist will also include all the new changes currently pending on the public test realm, which you can catch up on here.
More Overwatch news and updates
For more on Overwatch, check out the rest of what Mic has to offer. Here is an intro to the cute, new "Wholesome Overwatch" subreddit, a look at some gorgeous Overwatch-themed PS4 and Xbox One controllers, a cool Easter egg in the new Horizon Lunar Colony map and a criticism of Blizzard's failures in its design of Symmetra.