Spritebox is a hacked arcade machine that will take literally anything as payment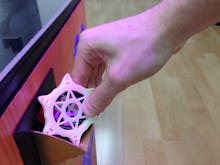 Nik and Megan Stewart modified an arcade cabinet to accept anything, including a small toy or even nothing, as payment. They called it the Spritebox.
In a video interview with Mic, Nik Stewart explained that he built a small chute inside the machine that allows any object to hit a light flap, which hits a light beam at the bottom of the machine, alerting the system that an object has fallen through. He also included a timer inside the arcade cabinet. If the door to the small chute is left open long enough, the game is rigged to accept that as payment, too.
"What I look forward to the most is when new game developers take existing platforms, like an arcade cabinet or kind of like a retro style, and then take a radically different approach with it," he said.
Nik Stewart and his wife view the Spritebox as a sort of social experiment, using the "pay-anything" feature to get direct feedback from players. They wondered if players would want to express their thoughts on the game by inserting a note to game developers or drawing a picture. Or, would they try to subvert the creative possibilities and insert a piece of garbage?
On the surface, the Spritebox looks like a regular, cocktail-style arcade cabinet. The game has traditional arcade controls and a trackball, and two players face each other as they play a game projected on the monitor that sits between them.
Beyond its unique payment options, the Spritebox also offers more games than your typical arcade machine. It also includes a small computer so any game developer can create their own indie titles for the machine. It's also wheelchair accessible.
The Spritebox is currently accessible to the public at Electric Perfume, a tech-focused art gallery in Toronto. It is part of the aptly named Curious Cabinets exhibit by the Hand Eye Society. Once the show ends, Nik and Megan hope to share their creation with even more players and add more games to the machine.
Further down the line, the Stewarts hope to make gaming accessible to even more people by combining newer technology with classic arcade-style hardware.
"Really accessible game design but also control systems, so devices that use brain waves," Megan Stewart said. "It's a really exciting time to make things that are truly universally accessible."
More gaming news and updates
Check out the latest from Mic, like this deep dive into the cultural origins of Gamergate. Also, be sure to read this essay about what it's like to cosplay while black, a roundup of family-friendly games to play with your kids and our interview with Adi Shankar, producer of the animated Castlevania Netflix series.