5 smart new books to read in 2017 if you need career advice, money help or secrets to success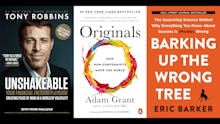 Reading season is in full swing! Whether you are looking for an enticing leisure read or a book to pass the time on your commute, you've got countless popular new titles to choose from. But maybe you need guidance narrowing down your options? Why not consider reads that are not just enjoyable — but will also help you make more money, change careers or otherwise inspire you to find greater happiness (and financial freedom)?
Here are five new books that will do just that. All were published or republished in 2017, meaning their insights are as fresh as can be. Each approaches the topic of money and success in a different way — from applying ancient Buddhist wisdom to picking the brains of today's top investors — but the ideas in all of them will make you wiser about your financial future.
These are the top titles to consider if you need some inspiration:
Barking up the Wrong Tree: The Surprising Science Behind Why Everything You Know About Success Is (Mostly) Wrong, by Eric Barker
HarperOne, $26.99
With lessons from valedictorians to piano prodigies to pirates, this Wall Street Journal bestseller takes attributes of history's most successful people and boils them down into simple life lessons that can be applied every day.
Among the pearls of wisdom from author Eric Barker, who also runs a blog called Barking Up The Wrong Tree: "School has clear rules. Life doesn't. When there's no clear path to follow, academic high achievers break down."
This comes from research from Harvard lecturer Shawn Achor that shows college grades are about as good as rolling dice in predicting lifetime success. One study found that for 700 American millionaires, the average college GPA was just 2.9, Barker writes.
Originals: How Non-Conformists Move the World (2017), by Adam Grant
Penguin Random House, $17
This book, re-released in paperback in February, comes recommended by Alain Bejjani, CEO of Majid Al Futtaim Holding, one of the largest and most successful companies in the Middle East. Author Adam Grant, a professor at the Wharton School of the University of Pennsylvania, discusses what it takes to influence others and change the status quo — and why the people you think might most be capable of doing so don't.
"Although child prodigies are often rich in both talent and ambition, what holds them back from moving forward is that they don't learn to be original," Grant writes. "As they perform in Carnegie Hall, win the science Olympics and become chess champions, something tragic happens: Practice makes perfect, but it doesn't make new."
Originals explores other ways non-conformists stand out — with examples you can use to reflect on your own unconscious habits. What does your choice of internet browser say about you, for example? Grant has answers.
Unshakeable: Your Financial Freedom Playbook, by Tony Robbins
Simon and Schuster, $26
This book is the product of famed life coach Tony Robbins' interviews with 50 of the world's greatest investors, from Warren Buffett to Vanguard founder Jack Bogle. The principal lesson Robbins comes away with is that financially successful people figure out what's within their control — and what's not, like the ups and downs of markets — and get better at focusing on the former.
"The winners of the financial game know that they can't control the future," he writes. "They know their predictions will often be wrong because the world is just too complex and fast-changing for anybody to foresee the future." Instead, they take measures so that "they'll thrive no matter what."
Girl Code: Unlocking the Secrets to Success, Sanity, and Happiness for the Female Entrepreneur, by Cara Alwill Leyba
Penguin Random House, $15
A one-time No. 1 in Amazon's Women & Business section, Girl Code — originally published in 2015 and re-released this summer by Penguin — comes from the mind of Cara Alwill Leyba, a "master life coach" whose other books have been recommended alongside those by Sheryl Sandberg and Arianna Huffington. She's also known as @TheChampagneDiet to her more-than 75,000 followers on Instagram.
Alwill Leyba examines the sacrifices she's made to launch her coaching-business dream job, while still working her desk job: "You can eliminate more things out of your day than you realize," she writes. "Work during your commute, wake up an hour earlier and slice your time on Facebook in half."
The book is also meant to be interactive — Alwill Leyba recommends reading it with a pen or pencil to fill out the "What I Learned From This Chapter" forms at the end of each section.
Mindful Money: Simple Practices for Reaching Your Financial Goals and Increasing Your Happiness Dividend, by Jonathan DeYoe
New World Library, $10.99
"The more time I have spent in and around markets the more I realize that impulsiveness and thoughtlessness can have a huge effect on our financial outcomes and emotional well-being," Tadas Viskanta, publisher of the popular finance blog Abnormal Returns, wrote about Mindful Money earlier this year.
DeYoe is a wealth manager and Buddhist who recommends using the philosophies that underpin mindfulness — like faith, patience and discipline — and applying them to your finances.
"Many people I've talked to over the years will say something like, 'I can't possibly meditate, because I can't sit still for that long,'" DeYoe told Viskanta in an interview. "But that's the whole point of meditating. If you can't sit still, I think it's important to understand why that is the case."
Sign up for the Payoff — your weekly crash course on how to live your best financial life. Additionally, for all your burning money questions, check out Mic's credit, savings, career, investing and health care hubs for more information — that pays off.