NAACP LDF: Trump election panel "was formed with the intent to discriminate against voters of color"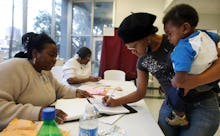 President Donald Trump's election integrity commission was expressly formed to make it harder for people of color to vote, a new NAACP Legal Defense and Educational Fund lawsuit claims.
"This commission has one purpose: to justify voter suppression," Legal Defense Fund President Sherrilyn Ifill said in a statement announcing the suit.
"Numerous statements made by this president and his surrogates about the need for this commission — statements detailed in our complaint — support the conclusion that this commission was created to substantiate the claim that African-American and Latino voters are engaged in widespread voter fraud," Ifill said.
The lawsuit, filed in conjunction with the Ordinary People Society, was entered in U.S. District Court for the Southern District of New York. It names not only the panel, but also Trump and panel leaders Vice President Mike Pence and Kansas Secretary of State Kris Kobach.
The suit argues that the real purpose of the panel is to disenfranchise nonwhite voters and is thus in violation of the Constitution. Additionally, the complaint alleges that Trump overreached his presidential powers by forming a panel to investigate voters as either individuals or groups. Lastly, it says the body doesn't meet the standards for the composition of federal advisory commissions.
According to a Washington Post tally, the LDF complaint is at least the seventh in a sheaf of federal lawsuits filed against the panel, which sparked a national backlash by requesting detailed data about every registered voter in the U.S.
LDF Associate Director-Counsel Janai Nelson said in the statement that the panel is "led and staffed by officials with long records of perpetuating the myth of voter fraud. And it has already gone too far in seeking the personal data of millions of Americans for some undefined purpose. We intend to make sure that it goes no further."
A spokesperson for the panel didn't immediately respond to a request for comment on the latest legal challenge.
The panel's first meeting is scheduled for Wednesday morning in Washington, D.C.