New poll shows GOP health care plan has slim support in key Trump counties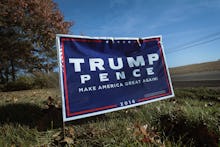 A new poll shows that the proposed GOP health care bill had scant support in the counties that helped President Donald Trump clinch the election in November.
The NBC News/Wall Street Journal poll found that, in 439 counties across 16 states that either flipped from President Barack Obama to Trump or in which Trump greatly outperformed 2012 Republican candidate Mitt Romney, just 12% of people polled said they supported the Republican health care plan.
Those key Trump counties represented by the poll were in Colorado, Florida, Georgia, Indiana, Iowa, Maine, Michigan, Minnesota, Missouri, Nevada, New Hampshire, North Carolina, Ohio, Pennsylvania, Virginia and Wisconsin, NBC News reported Tuesday.
Even among only Trump voters in those counties, support for the GOP health care plan was at just 25%. Of the Trump voters polled, 16% said the Republican health care plan was "a bad idea" and 59% had no opinion or were unsure.
Among Hillary Clinton voters, 75% said the GOP health care plan was "a bad idea" and 0% supported it.
GOP hopes for the health care bill seemed to fizzle out Monday evening when two more Republican senators announced that they would not support the legislation, effectively ending its chances of passing in its current form.