Get money back: What to do if a business you paid goes bankrupt — before you get your purchase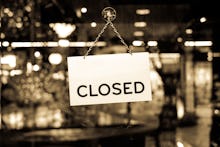 When you buy a wedding dress, custom furniture or other big items, it's common to put down a deposit and then wait weeks or even months for your product to arrive. But, what happens if the product never comes because the company goes out of business?
Brides-to-be were recently left facing this question — and the dilemma of what to do about dresses they'd pre-ordered after Alfred Angelo closed and filed for bankruptcy on Friday. But this isn't just a problem for people buying wedding dresses: It could happen to anyone who has made a purchase that hasn't been delivered by the time a company declares bankruptcy.
So, what do you do if you find yourself in this situation? It's a bit tricky. "The consumer [or] customer has rights to be sure, but they are few and very difficult to enforce," Robertson B. Cohen, a Denver bankruptcy attorney at Cohen and Cohen P.C., said to Mic in an interview.
Luckily, knowing those rights — and the best course of action to take — will help you get a better shot at a refund. Here's how to proceed.
Dispute the charge with your credit card company first
Hopefully, you paid your deposit with a credit card. Then the simplest way to get your money back is by disputing the charge on your credit card bill. Start by logging into your account online and looking for an option to dispute the charge in your itemized list of charges. Here is an example from Citi:
If you can't dispute the charge online, call the number on the back of your card and ask to speak with customer service. Don't worry if you've already paid off your balance: "If you already paid the charge that you're disputing, you can still dispute it," the Consumer Financial Protection Bureau explained. "But you probably won't get the payment back until the credit card company has investigated your dispute and decided that you were right."
While your credit card provider will likely help you, reaching out to the creditor isn't a guarantee you'll get your money back. "Our Customer Care Professionals will help file a dispute to determine eligibility for a refund," Heather Andrews, manager of corporate affairs and communications for American Express, said to Mic via email.
Whether you'll actually be able to recoup your losses will depend upon whether you can prove you didn't get the product and whether you're within the allowable timeframe for chargebacks. 120 days from the date a transaction was processed is a fairly typical timeframe.
Remember: Better protections for your money are an important reason to use your credit card — as opposed to cash or debit — when you're taking on any sort of risk with a purchase, like by making a pre-order.
Why bankruptcy court is a longer shot for getting a refund
Didn't use a credit card? If you've made a cash deposit with a company that then went bankrupt, one of your options is to try to go to bankruptcy court and get your money back. Unfortunately, this is not a very good option. "The consumer would need to have a high enough claim against the bankrupt company to justify the time and energy about to be expended," Cohen said. 
It can take years to recoup your funds if you go through bankruptcy court, if you're even successful. And if you hire a lawyer to deal with all the complex paperwork, it will often cost you more than your claim is worth.
When a bankruptcy is filed, the assets of the bankrupt debtor become part of the bankruptcy estate, Cohen explained. The assets are liquidated to pay for all of the claims made by people who are owed money. It's very rare there will be enough assets for 100% of all claims to be paid, and claims are paid in order of priority. Before a consumer gets any money back, secured mortgages, liens, administrative fees, taxes, retirement plans and wages for employees who got stiffed are all paid.
"Assuming there is anything left after all of that, the consumer might get lucky enough to be higher than a general unsecured claim, get seventh level priority and get a max of $2,850," Cohen told Mic.
To get that much, you'd have to prove you were owed it. And even getting this far is pretty hard. "The general consumer would likely be inundated with legal pleadings and mailings which make no sense to a non-lawyer and probably miss out on the deadline to even file a claim," Cohen said.
How to protect your money
In general, your best bet, if you want to protect yourself from loss, is to try to learn as much as you can about a company before you give them a deposit — or any personal information. Look for any complaints about the company online, check with the Better Business Bureau and, if you're going to be making a really big deposit, you may even want to check into and research the financial information of the business — before you make any payment.
Another tip: Beyond just using your credit card to pay whenever possible, be sure to learn what your credit card provider's time limit is for chargebacks. If you have only 120 days, for example, try to avoid making a deposit for goods that won't be delivered within this four-month window of time. By knowing the law, reaching out to the merchant first and following these other tips for a successful chargeback, you can maximize your chances of getting every penny you paid back in your bank account.
One worry, if you want to protect your privacy
Whether or not you try to get your money back, Cohen also warns of another possible concern when a company goes bankrupt: Your personal identifiable information could be sold as a part of the bankruptcy proceeding.
"People give this kind of stuff all the time to companies — sometimes knowingly, sometimes not — and what's particularly alarming is that this information very well could end up being sold to someone else once the company goes bankrupt," Cohen said. "Someone the consumer didn't want to give it to in the first place."
Alas, there is little you can do about this. The New York Times has warned of the problem and indicated that 85 of the top 99 websites in the U.S. with English-language privacy policies had policies that made a user's information vulnerable to being transferred in the event of a bankruptcy or asset sale. A company's data could be one of its most valuable assets during bankruptcy proceedings, and there's little you can do to protect your data.
That said, this sharing of this information won't necessarily lead to any serious consequences for you. On one hand, the more businesses with your information, the higher the risk of you being affected by a security breach. But the most likely effects could be more spam in your inbox, telemarketing calls or annoying junk mail. If you are worried about shadier threats, see Mic's guides to warding off identity theft and other privacy issues that can have big financial consequences affecting your credit and more.
Sign up for the Payoff — your weekly crash course on how to live your best financial life. Additionally, for all your burning money questions, check out Mic's credit, savings, career, and investing hubs for more information — that pays off.