A Republican congressman just asked a NASA expert about ancient civilizations on Mars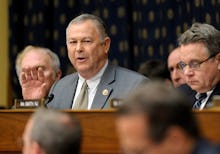 On Tuesday, as a panel of NASA experts addressed Congress, one Republican representative took the opportunity to ask the experts about whether or not ancient civilizations existed on Mars.
The answer, according to the scientists, is probably not.
The NASA experts were testifying as part of a hearing before the House Committee on Science, Space, and Technology on Tuesday when Rep. Dana Rohrabacher (R-Calif.), a member of the committee, brought up the question of ancient space civilizations, the Hill reported.
"You have indicated that Mars was totally different thousands of years ago, is it possible that there was a civilization on Mars thousands of years ago," Rohrabacher asked the panel.
Kenneth Farley, a scientist on NASA's Mars Rover 2020 Project, responded to Rohrabacher's line of questioning by saying that Mars was different billions of years ago, not thousands of years ago, and added that "there's no evidence" of ancient civilizations.
But Rohrabacher pressed the point, asking Farley if he would "rule that out."
Farley responded by telling him, "I would say that is extremely unlikely."