Trump and Putin had second, previously undisclosed meeting at G20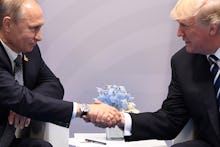 President Donald Trump had a second, previously undisclosed meeting with Russian President Vladimir Putin at the G20 Summit in Germany, the New York Times reported on Tuesday.
A White House source, speaking anonymously, confirmed to the Times that the meeting occurred.
The two reportedly had an hourlong conversation during a private dinner, on same day that they had an earlier, formal in-person meeting. There is no official U.S. government record of the second conversation, the Times reported.
According to the Washington Post, the second conversation occurred when Trump left his seat during a dinner for G20 leaders to go sit next to Putin. Trump was reportedly alone, and Putin was accompanied by his official interpreter, the Post reported.
An official in the Trump administration told the Post that the only "version of the conversation" provided to the White House came from Trump himself, and press traveling with Trump during the summit were not informed of the informal meeting.
The dinnertime conversation between Trump and Putin was first reported by Ian Bremmer, president of the Eurasia Group, a consulting firm, who told the Post that he was made aware of the meeting by two people who were present at the dinner.
Bremmer told the Times that "Pretty much everyone at the dinner thought this was really weird, that here is the president of the United States, who clearly wants to display that he has a better relationship personally with President Putin than any of us, or simply doesn't care."