Trump will nominate Jon Huntsman as US ambassador to Russia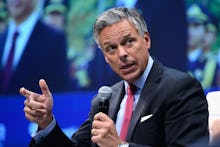 President Donald Trump intends to nominate former Utah Governor Jon Huntsman as the U.S. Ambassador to Russia, the White House said in a statement on Tuesday.
In the initial press release, the White House misspelled Huntsman's first name as "John" instead of Jon, the Associated Press reported on Tuesday.
Huntsman, a 2012 Republican presidential candidate, is also a two-time former ambassador. He served as both the U.S. Ambassador to Singapore under former President George H.W. Bush and as the U.S. Ambassador to China under former President Barack Obama.
According to the AP, Huntsman supported Trump once he became the Republican nominee during the 2016 election, but then called on Trump to drop out of the race after the release of a now-infamous tape in which Trump bragged about his behavior with women and commented "grab them by the pussy."
In the statement announcing Trump's intent to nominate Huntsman for the position of ambassador to Russia, the White House lauded his "distinguished career as a politician, diplomat and businessman" and his "robust record of public service."