'Hot Mic' podcast: GOP health care fails, no third trial for Ray Tensing, Republican budget proposal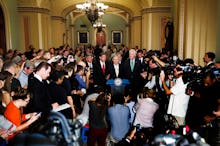 Listen and subscribe to the Hot Mic podcast from your mobile device:
Here are the important stories to know for Wednesday, July 19:
1. The proposed health care bill by Senate Republicans is dead, and so is McConnell's plan to repeal Obamacare without a replacement.
2. A former police officer who's been tried twice for killing an unarmed black man won't be tried again.
3. House Republicans revealed a budget plan that drastically cuts funding for aid programs and increases spending on defense.
Direct from Mic's newsroom, Hot Mic keeps listeners informed with a daily run-down of top stories, breaking news and analysis from our news team.