Majority of voters want Democratic control of Congress in 2018 to serve as check on Donald Trump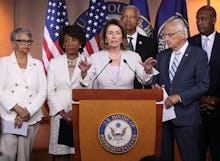 By a wide margin, voters say they want Democrats to control Congress in 2018, according to a new ABC News/Washington Post poll published Wednesday.
More than half, or 52%, of registered voters said they want Democrats to control Congress to serve as a check on President Donald Trump, according to the poll. That's 14 points more than the 38% who want Republicans to control Congress to support Trump and his agenda.
Republicans currently control both the House and the Senate.
Despite that control, Republicans have struggled mightily to make good on the promises they made to voters — including their seven-year-old pledge to repeal and replace the Affordable Care Act, better known as Obamacare.
If Republicans lose ground in the midterm elections next November, it will make it even harder for the GOP to pass Trump's agenda.
Democrats need to pick up 24 seats to regain control of the House, and three seats to take control of the Senate.
Political operatives on both sides of the aisle view the House as the chamber more likely to flip. Currently, 23 Republicans represent congressional districts that Hillary Clinton won in the 2016 presidential election.
The Senate map is more challenging for Democrats. Twenty-five of the 34 senators up for re-election in 2018 are Democrats or independents who caucus with the Democratic Party. And a number of those Democrats represent states Trump won in 2016.
A lead in the generic congressional ballot, however, could help those Democrats in Trump states win re-election.
Trump seems to understand that losing seats in Congress would make his already struggling presidency even more challenging, saying in a Tuesday morning tweet that Republicans "need more victories next year."