Al Gore backs single-payer health care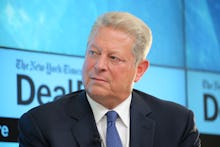 The small contingent of Democrats supporting single-payer health care just added a high-profile name to its ranks.
Former Vice President Al Gore publicly backed single-payer health care on Tuesday, just one day after Republican senators came up short in their latest attempt to pass an Obamacare repeal.
Only a small number of prominent Democrats currently support a single-payer plan, which would provide taxpayer-funded basic health care to all United States citizens. As it stands now, Gore just might be the most prominent name on that list.
At an event to promote his new climate change documentary, An Inconvenient Sequel: Truth to Power, Gore told a packed room of attendees at Borough of Manhattan Community College that even the much-maligned Affordable Care Act didn't go far enough in the way of offering cost-effective health coverage.
"The private sector has not shown any ability to provide good, affordable health care for all," Gore said, according to HuffPost. "I believe we ought to have single-payer health care."
Although Gore did not support a Medicare-for-all platform during his failed bid for the presidency in 2000, he did say in a 2002 interview during a press tour for his book Joined at the Heart that he had "reluctantly" accepted single-payer as the way forward for the Democratic party.
"I think we've reached a point where the entire health care system is in impending crisis," Gore said at the time. "I have reluctantly come to the conclusion that we should begin drafting a single-payer national health insurance plan."
On Tuesday, however, Gore seemed less reluctant to lend his support to the plan.
"In 2009, President Obama passed it in the House and he succeeded, but it was different when it came to the Senate," Gore said. "I think we could have passed it in the Senate in 2009, and we could have gone to the climate negotiation in Copenhagen with a stronger hand, but that's water under the dam."
During his ill-fated 2016 campaign, Sen. Bernie Sanders of Vermont famously backed a Medicare-for-all platform. Alongside him, Rep. Keith Ellison, Sen. Elizabeth Warren, Sen. Kirsten Gillibrand and Sen. Kamala Harris have also thrown their support behind single-payer.
But more establishment Democrats, like Senate Minority Leader Chuck Schumer and House Minority Leader Nancy Pelosi, have remained reticent, refusing to back a Medicare-for-all system. When asked in May if single-payer health care was the future of the Democratic party, Pelosi, for one, responded simply, "no."