Nintendo Switch Online App Download: 'Splatoon 2' mobile voice chat has arrived for IOS and Android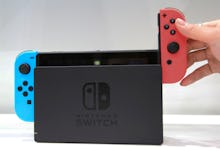 The Nintendo Switch Online app, originally slated for a July 21 release date, has arrived. The Nintendo app works in tandem with Splatoon 2's online multiplayer, meaning you'll have to wait for the paint shooter to arrive before you can really kick the app's tires. That doesn't mean you can't download the app on iOS or Android in advance of Splatoon 2's launch. Here's how.
Nintendo Switch Online app download: Where to download on iOS and Android?
Nintendo's app can be had on both Apple and Google devices. iPhone users can find the iOS app here while Google users can find the Android app here. After installing, the app will lead you through its on-boarding process, showing what you can do with the app — or, more accurately, can't do at the moment.
The Nintendo app presents an invitation list option, but without Splatoon 2 out, your invitation list is likely barren. SplatNet 2, the dedicated Splatoon section of the app, is an option as well, but also offers nothing to do within its confines.
You can, however, login with your Nintendo credentials and link your account. Upon successful login, you'll see your Mii avatar appear on screen. Even after logging in, there isn't much you can do with the app except agree to letting Nintendo send you push notifications.
Players will have to wait for July 21 to get into the real juicy stuff for Nintendo's Switch app. In the meantime, grab the app from your respective store in advance of your next turf war battle.
Check out more Nintendo Switch news and coverage
Check out more video game content on Mic, including which Pokémon are actually the best and why black players can never seem to get custom characters that look like them. Learn more about how blind gamers are getting in on the fun and that Injustice 2 appears to be nerfing its female characters. See why we love Twintelle (and why we hate Twintelle) in the upcoming Arms, and don't miss our guide to dodging blue shells in the Mario Kart 8 Deluxe — you can thank us later.