With health care reform dead, here are the 5 things Republicans will focus on next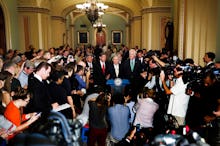 This is Mic's daily read on Donald Trump's America. Welcome to the political newsletter that will be sure to let you know if health care comes back from the grave.
Want to receive this as a daily email in your inbox? Subscribe here.
What we're watching
Today: Health care reform appears dead.
More: But Republicans still have a lot on their agenda.
Even more: The president's voter fraud commission meets Wednesday for the first time.
Yes, more: Trump held a previously undisclosed meeting with Russian President Vladimir Putin at the G20.
Trump's agenda today: Meeting with Republican senators. Meeting with his ambassador to China. Hosting a Made in America roundtable.
Is that the end of health care reform in Congress?
After six months of governing and seven years of promising to repeal the Affordable Care Act, Republicans are expected to fail in a vote next week to take the ACA off the books. Three Republican senators said they would not let a bill that would repeal the ACA advance to the Senate floor.
For now, that ends Congress' attempts to repeal and replace the ACA.
• The New York Times has a worthwhile postmortem on why the bill died.
• Trump invited all 52 GOP senators to the White House on Wednesday, looking for a final opportunity to pitch action on health care.
• Politico notes conservatives have promised primary challenges against Republicans who opposed the bill.
• Trump said Democrats would take the blame if the ACA fails, but the Washington Post explains why it looks like Republicans will be on the hook in 2018.
• A poll found just 12% of people in Trump-voting counties supported the Senate bill.
• Without a chance of passage, Republicans will vote "early next week" on a straight repeal of the ACA.
What's next for Republicans?
A failure on health care does not mean the conservative agenda will come to a screeching halt. Here's the legislation to watch in coming weeks.
The federal budget: The Republican bill unveiled Tuesday would make cuts to Medicaid and Medicare while boosting defense spending. It is supported by the White House, but could cause a split between moderate and conservative House Republicans.
Tax reform: The White House is signaling a pivot from health care to tax reform, a move Republicans have long craved. It's too early to know the details of the proposal, but the GOP has long promised to slash the corporate tax rate and close loopholes. They could also cut taxes for wealthy Americans.
Debt ceiling: The Republicans first highlighted the power of the debt ceiling by fighting then-President Barack Obama about the debt limit in 2011. The federal government is again expected to hit its debt limit in October. That means Congress has to raise the debt ceiling, the maximum amount of debt the U.S. government can hold, currently nearly $20 trillion. It's too early to know if there will be trouble, but conservatives have caused a ruckus in the past over the matter. NPR has an explainer.
Government shutdown: If Congress fails to agree on funding, the government will run out of money in September. Back in early May, Trump said the government could use a "good 'shutdown'" to force Democrats to kill the requirement for 60 votes before advancing Senate legislation.
Energy: In late June, Sens. Lisa Murkowski (R-Ala.) and Maria Cantwell (D-Wash.) introduced bipartisan legislation to overhaul regulations on America's energy sector and natural resources, from fossil fuels to national parks. The bill has been fast-tracked in the Senate. A host of environmental and social justice groups came out against the bill earlier this month, saying it would increase dependence on fossil fuels.
Today's question: Is it better for Republicans to vote on repeal and fail or not take a vote? Email your thoughts to trumpsamerica@mic.com.
We're seeking your support to expand our coverage of Donald Trump. As little as a $1 a month will give you access to an exclusive group to interact with Mic journalists and grow our reporting. Learn more here.
News and insight you cannot miss:
Vice President Mike Pence and Kansas Secretary of State Kris Kobach will preside over the first meeting of Trump's election integrity commission. Kobach was rebuffed by nearly every state when he requested voter data on 200 million Americans last month.
Trump nominated former Republican presidential candidate Jon Huntsman for ambassador to Russia.
Putin and Trump met privately at the G20, a previously undisclosed meeting confirmed by the White House on Wednesday.
Correction: July 19, 2017