"Despacito" may have just officially become the future of pop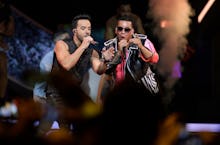 The slow takeover of Luis Fonzi and Daddy Yankee's "Despacito" hasn't exactly been subtle. Over the past six months, the song has topped the charts in at least 54 countries, blaring out of storefront windows, car stereos and backyard boom boxes. It's been credited for single-handedly boosting Puerto Rico's economy. In America it's topped the Billboard Hot 100 for the past 10 weeks, becoming the 35th song in history to do so — and slowly, slowly it's climbed its way toward an even more prestigious crown.
On Tuesday, Daddy Yankee, Fonzi and Justin Bieber's "Despacito" became the most streamed song in history, with 4.6 billion streams. It toppled the previous record, another Bieber byline: "Sorry," which sports 4.38 billion streams. This achievement is not something that can easily be brushed off. "Sorry" changed the sound of pop radio, confirming that the tropical house, dancehall-light trends — popularized by tracks like Omi's 2015 song of the summer "Cheerleader" and Rihanna's frequent crossover hits — were here to stay. That light, Caribbean-rooted sound has had a presence on the charts ever since. You can hear it in the poolside synths of DJ Khaled's "I'm the One" and in Drake's vision of a global dance party in More Life. It makes up the swaying, flexible backbone to Ed Sheeran's omnipresent earworm "Shape of You."
"Despacito" will likely mark a similar sea change. Expect to see more producers experimenting with Andrés Torres and Mauricio Rengifo's fusions of organic and in-organic instrumentation. In a video with Genius, the two broke down the song channel by channel, highlighting the Puerto Rican musicians and instruments they tapped to give the song's cold, electronic backbone more "life."
"It's a perfect combination because you have all the human souls on it, but you have the perfect kick punching you in the face every time," Rengifo said, comparing the song's final product with earlier versions devoid of Puerto Rican cuarto, guache and güira.
Expect to see more artists collaborating across cultures, melding language and fusing traditions. That cultural fusion remains the key to unlocking a crossover song's true commercial potential. But "Despacito" may have been a hit without the Bieber bump. It finds common ground between two of Puerto Rico's game-changing talents: Luis Fonsi, who has enjoyed 20 years of major Latin radio success with his rock-tinged balladry without ever dabbling in more cutting edge hip-hop styles, and Daddy Yankee, who helped sparked the reggaeton craze with his 2004 smash "La Gasolina." A look back through history holds that all three of the Billboard charts' majority Spanish No. 1 songs in history — Los Lobos' "La Bomba," Los del Río' "Macarena" and "Despacito" — all needed some form of English-speaking crossover to turn it into a worldwide smash. But, at this point, it's likely only getting easier to repeat this coup — because of streaming.
"Streaming has opened up the possibility of a song with a different beat, from a different culture and in a different language to become a juggernaut of success around the world," Lucian Grainge, chairman and CEO at Universal Music Group, said in a statement.
The ease of access to music helps give equal weight to every listener's individual's habits in the United States and around the world. And this is what this country's listenership looks like today. In 2050, the United States may have more Spanish speakers than any other nation in the world. A continued influx of reggaeton and cumbia style should keep audiences dancing through that evolution.
Mic has ongoing music coverage. Follow our main music hub here.