'Dota 2' The International: TBS to air four-part esports documentary leading up to the championships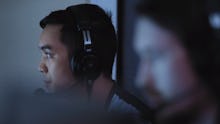 There's never been a better time to watch video games on television than right now. Just this past weekend, ESPNU aired Super Smash Bros. matches from Evo 2017, and TBS's Eleague promotion has aired Counter-Strike: Global Offensive and Street Fighter V competitions as well. Now, TBS is planning to air a four-part documentary about 'Dota 2' esports called Road to The International Dota 2 Championships.
TBS to air Road to The International Dota 2 Championships throughout August
At 10 p.m. Eastern on each Friday in August, TBS will air a four part documentary about different Dota 2 pros and their journeys to the International, the Super Bowl of Dota 2. The International runs from August 7 to 12, so this series will actually run well past the end of the competition, but if this is for a television audience that doesn't diligently follow esports, that's probably fine.
According to the Eleague press release, the first episodes will follow teams and players on their way to the International, while later episodes will document the tournament itself. To ease viewers into the idea of professional Dota 2, TBS will air Free to Play, a documentary Valve made about the first International championship, on July 28 at 10 p.m. Eastern.
Time will tell if anyone actually feels like watching this, but it's probably a smart approach for a game as complex and arcane as Dota 2. Simply airing the International on TV without any supplemental material would be extremely confusing to anyone who doesn't already like the game. Framing it as a tournament about people with ambitions in a documentary format could make it more palatable to the masses.
More gaming news and updates
Check out the latest from Mic, like this deep dive into the cultural origins of Gamergate. Also, be sure to read this essay about what it's like to cosplay while black, a roundup of family-friendly games to play with your kids and our interview with Adi Shankar, producer of the animated Castlevania Netflix series.