'Destiny 2' Beta Character Creation: No customization available in current beta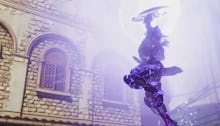 If your favorite part of the first Destiny was designing your character's unsettlingly realistic face from scratch, you're going to be disappointed by the ongoing Destiny 2 beta. Currently, there's no way to design your character's appearance; all you can do is select your subclass.
Destiny 2 beta offers no character creator
The exclusion of a character creator makes sense from a practical standpoint. Since your character will get wiped at the end of the beta anyway, it doesn't make sense for Bungie to have prioritized finishing that feature just yet.
It's unclear whether future versions of the beta — like the open beta that starts July 21 — will have character creation, or if that will remain under wraps until the full retail release on Sept. 6. Mic reached out to Bungie for clarification and will update with any response.
More gaming news and updates
Check out the latest from Mic, like this deep dive into the cultural origins of Gamergate. Also, be sure to read this essay about what it's like to cosplay while black, a roundup of family-friendly games to play with your kids and our interview with Adi Shankar, producer of the animated Castlevania Netflix series.