In a 2012 tweet, Trump accused his pick for Russia ambassador of "giving away our country to China"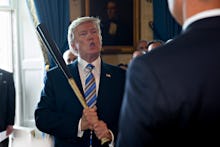 President Donald Trump on Tuesday announced that his ambassador to Russia will be Jon Huntsman — a man he once condemned because he "gave away our country to China."
"Jon Huntsman called to see me," Trump wrote in 2012, shortly after the former Utah governor suspended his presidential campaign. "I said no, he gave away our country to China!"
Huntsman, who served as the United States ambassador to Singapore under George H.W. Bush and to China under Barack Obama, supported Trump's campaign once he became the Republican nominee, but called on him to drop out of the race after his infamous "grab them by the pussy" remarks leaked.
In announcing him as the nominee for Russia ambassador, the White House praised Huntsman as having had a "distinguished career as a politician, diplomat and businessman" — and misspelled his first name.
Huntsman was reported to be Trump's nominee for Russia ambassador months ago, but his formal nomination did not come until now because the White House was waiting for Russia to approve his selection, the Washington Post reported. The Kremlin approved Huntsman Monday night, according to the Post, as the U.S. approved Russian politician Anatoly Antonov as Russia's ambassador in Washington.
If confirmed, Huntsman will take over the top diplomatic post in Russia amid high tensions over the Kremlin's interference in the 2016 election and high-profile investigations into the Trump campaign's links to Russia.