Noah Hawley is a busy man. Here's a running list of everything he's working on.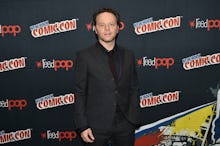 Here's a familiar bit of news: Television auteur Noah Hawley has yet another project in the works. Variety reported Friday that the man behind FX's Fargo and Legion will serve as executive producer on a new FX series called The Mastermind. It's just the latest addition to a workload so heavy it gives me secondhand exhaustion. Producing shows, directing a film, adapting his own novel — Hawley surely sleeps and spends time with his family when he's not doing all that, but I can't imagine he's got very much downtime.
"I don't know how he manages to direct, write novels, write our series, do all the editing," Fargo season three actress Carrie Coon said in an FX featurette on the showrunner. "I'm really still unclear about how he's accomplishing all those things. Perhaps he's cloned himself, I'm not really sure."
To demonstrate just how busy Hawley is right now, here's a running list of all his current projects. Try not to stress on his behalf.
A Doctor Doom movie for Fox
As announced during Legion's panel at San Diego Comic-Con, Hawley will be working on a Doctor Doom movie with Fox. "I'll just say two words," he told the crown, according to Variety. "The first one is Doctor and the next one is Doom."
Doom, already seen on-screen in both of the studio's earlier attempts at a Fantastic Four franchise, has been praised by comic book fans are one of Marvel's most compelling villains — if not the best supervillain they have. Obviously, the earlier Fantastic Four villains haven't done Doom (or the titular heroes for that matter) justice, but he's in better hands with Hawley at the helm.
FX series The Mastermind
As previously mentioned, this upcoming crime drama on FX is the most recent project on Hawley's lap. The series teams Hawley with Joe and Anthony Russo, the brothers behind Marvel's Captain America films The Winter Soldier and Civil War. All three will serve as executive producers, with the Russo brothers also slated to direct.
The Mastermind will focus on the true story of Paul Le Roux, a computer programmer turned criminal kingpin who later became a DEA informant. Long story short: Things didn't go as planned.
FX miniseries based on Kurt Vonnegut's Cat's Cradle
Hawley will also write the TV adaptation for Kurt Vonnegut's fourth novel, Cat's Cradle. There haven't been many updates on the project since it was first reported in November 2015, but considering the novel's dark humor, Cat's Cradle would be right in line with Hawley's work on Fargo. The book follows the fictional co-creator of the atom bomb, who discovers a way to freeze water at room temperature with a technique called "Ice-9."
Needless to say, with the faux co-inventor of the atom bomb learning about such a powerful scientific method, chaos ensues. We can't wait to see it play out on the small screen.
Feature film directorial debut Man Alive
Hawley will direct the forthcoming sci-fi film Man Alive, which was acquired by 20th Century Fox in 2016, according to Deadline. The script for Man Alive comes from first-time screenwriter Joe Greenberg. Not much is known about the film, which was described to Deadline as an "elevated sci-fi spec script."
On television, Hawley's directed two episodes of Fargo (season two's "Before the Law" and season three's "The Law of Vacant Places"), as well as the pilot for his X-Men-adjacent FX series, Legion.
Adapting his novel, Before the Fall, into a motion picture for Sony Pictures
Hawley's fifth novel, which follows the events surrounding a mysterious private-plane crash near Martha's Vineyard and its two survivors, earned rave reviews when it was published in 2016. But before the novel was even available to the public, it was acquired by Sony Pictures in September 2014 for adaptation into a feature film.
The acquisition speaks not only to the book's quality, but also the clout Hawley earned with the stellar first season of Fargo that premiered earlier that year.
Season two of Legion
The psychedelic FX series Legion became one of TV's best new shows upon its February release, with eight compelling episodes filled with disturbing imagery, psychological torment, occasional X-Men references and Aubrey Plaza doing the best (and most terrifying) work of her career.
Back in March, the series was renewed for a second season, which Hawley and co. are already hard at work putting together. Entertainment Weekly recently revealed an exclusive look at the first page of season two's script; if you've already seen the first season and know what's up with Jemaine Clement's character Oliver, it's an enticing tease of what's to come.
More Fargo, maybe
With everything else he's got going on, it's perhaps unsurprising Hawley has cautioned fans that Fargo's third season could be its last. But even though he's managing expectations, Hawley isn't ruling out the possibility of a fourth season.
When I spoke to Hawley at the ATX Television Festival in June, he said he knew that if he came up with another idea for the anthology series, it wouldn't be hard to get things moving:
I don't have a fourth season in my head at this exact moment, but I also know that if and when I call [FX chief] John Landgraf and say, 'I got it,' we'll start moving in that direction. Whether that's tomorrow or three years from now or whatever it is. I do know that I have a second season of 'Legion' racing toward me, and I need to focus on that because the bar is pretty high there as well.
8:20 a.m. Eastern: This story has been updated.
Mic has ongoing television coverage. Please follow our main TV hub here.