'The Evil Within 2' Trailer: Gameplay shown in the latest footage from Bethesda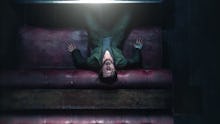 The Evil Within 2 got a new trailer today, which shows us a little bit more about Sebastian's return to STEM to search for his daughter. We also get a few brief sequences of The Evil Within 2 gameplay, and some great looks at the creepy foes we'll be facing in the game.
The Evil Within 2 Trailer: Gameplay and enemies featured
It's hard not to see shades of Silent Hill when you see a game set in a creepy fog town with the main character looking for his daughter. It looks like there'll be less "have you seen a little girl" and more action though.
I never finished the original The Evil Within because it felt a bit too repetitive in environment and gameplay. However, by the looks of this trailer, the sequel is going to mix things up a lot more. Who knows where Sebastian's upcoming wacky adventure will take us?
Bethesda also released info on pre-order bonuses for The Evil Within 2. Those who pre-order get the Last Chance Pack, which includes:
• The Burst Handgun: This weapon is only available in the Last Chance Pack, and probably fires 2 to 3 rounds per trigger pull.
• Crafting Supplies: There's going to be crafting, and these extra supplies will give you an early advantage.
• Medical Supplies: These will heal you.
The Evil Within 2 is coming to PlayStation 4, Xbox One and PC on Friday, Oct. 13. Players beware, you're in for a scare!
More gaming news and updates
Check out the latest from Mic, like this deep dive into the cultural origins of Gamergate. Also, be sure to read this essay about what it's like to cosplay while black, a roundup of family-friendly games to play with your kids and our interview with Adi Shankar, producer of the animated Castlevania Netflix series.