New study suggests high workloads and aging doctor population means looming OB-GYN shortage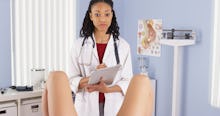 As Republicans take their legislative axes to the country's reproductive health safety net, the United States faces another looming medical crisis: An impending shortage of obstetricians and gynecologists.
A new report from Doximity, which bills itself as the "country's largest social medical network," shows that OB-GYNs are both overworked and aging out of their professions, without a younger contingent to replace them. The net result is fewer doctors to deliver babies and provide both primary and preventative reproductive health care, a pattern that promises to escalate in coming years.
We already know the specialty is shrinking: According to the American Congress of Obstetrics and Gynecologists, by 2020, the country could have 6,000 to 8,000 fewer OB-GYNs than it needs, and by 2050, it could have as many as 22,000 fewer. Doximity's findings help us understand why the field is becoming less popular, and identify areas at particular risk for a shortage.
Researchers looked at two variables in assessing OB-GYN accessibility: Average workload and average age. Pulling data from the profiles of over 30,000 licensed OB-GYNs in Doximity's network, they isolated the number of specialists working in specific areas. They then calculated the number of deliveries per doctor with birthing data from the National Census Bureau and the Centers for Disease Control and Prevention to identify the cities where OB-GYNs have the highest workload.
"When we look at disparities in workload for OB-GYNs using our first metric, that's concerning," Christopher Whaley — the study's lead author and adjunct assistant professor at the University of California, Berkeley School of Public Health — explained in an interview. "But then when we also think that a large portion of the OB-GYN workforce is close to retirement, the problem could get worse in the next couple years."
Using medical board certification records, the authors also calculated the average age of OB-GYNs nationwide to be 51, which is precariously close to 59, the age at which many retire. Age distribution among doctors varied nationwide, but according to the report, only 14% of OB-GYNs in the U.S. are 40 or younger, and 37% are over the age of 55.
"Women now and in the future will want access to OB-GYNs," Whaley said, but it's looking likely that access is about to shrink — especially in areas of the country where average OB-GYN age and workload are both high. Doximity identified the top 10 cities at risk for provider shortage as: Las Vegas; Orlando, Florida; Los Angeles; Miami; Riverside, California; Detroit; Memphis, Tennessee; Salt Lake City; St. Louis; and Buffalo, New York.
A number of the states facing a provider shortage — Nevada, Florida, Michigan, Tennessee, Missouri — already rank low in maternal and child health scores. Researchers did not examine reproductive health care laws on a state level in the course of their study, so it's difficult to pinpoint the degree to which aggressive restrictions on doctors and providers of reproductive care might contribute to these trends.
It does seem reasonable to expect, though, that if Republicans succeed in limiting access to organizations like Planned Parenthood and the services they provide — including contraception, sex education, pregnancy tests and abortion — that we might see an uptick in birth rates and the prenatal care parents require from OB-GYNs. That's been especially true in states that enact extreme regulations on reproductive health care.
"Access to maternity care and women's health services is vitally important," Dr. Valerie Anne Jones, a retired OB-GYN and member of Doximity's Medical Advisory Board, said in a press release. "We need to have infrastructure to support the numbers or these women will have no OB-GYN to turn to despite having insurance."