The BBC just revealed a huge gender pay gap among its biggest stars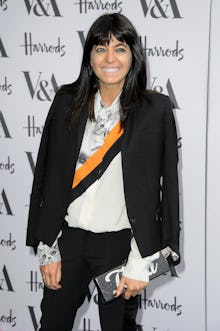 The BBC has exposed a massive pay gap among its highest-paid actors of different genders and races in a public report of the stars' earnings released Wednesday.
The list discloses the names and salaries of all 96 BBC actors and presenters who earned more than £150,000 ($195,360) in the 2016/17 financial year. Sixty-two of the stars on the list are men, while 34 are women.
According to the report, the BBC's highest-earning man — radio host Chris Evans — made between £2,200,000 ($2,865,280) and £2,249,999 ($2,930,399). In contrast, Strictly Come Dancing host Claudia Winkleman, the network's highest-paid woman during this time period, drew a salary between £450,000 ($586,080) and £499,999 ($651,199) — less than a quarter of Evans'.
The list also reveals a bleak pay disparity among actors and presenters of different races. According to the Associated Press, every star who earned more than £300,000 ($390,720) in the fiscal year was white.
BBC Director General Tony Hall addressed these discrepancies in a speech Wednesday morning, expressing his commitment to promoting diversity and equality throughout the network's programming.
Hall said the BBC hopes to split all leading presenting and acting roles equally between men and women by 2020. He also said the network plans to have "black, Asian and minority ethnic" stars make up 15% of the company's on-air talent by the same time.
"At the moment, of the talent earning over £150,000, two-thirds are men and one-third are women," Hall said. "Is that where we want to be? No. Are we pushing further and faster than any other major broadcaster? Most certainly."
The BBC's salary statistics are representative of similarly wide gender and race pay gaps throughout the entertainment industry at large. According to Variety, the 10 highest-earning film actors in 2015 made approximately $431 million combined, compared to the 10 highest-paid actresses' $218 million. Additionally, Forbes reported that only 4.9% of speaking or named roles in the 100 top-grossing movies of 2014 were Hispanic of Latino, while 5.3% were Asian and 12.5% were black.
In an interview with Cosmopolitan, Sam Smethers, chief executive of women's rights charity the Fawcett Society, said the BBC's report proves that "women are underrepresented and undervalued at the top of the corporation."
Some BBC stars have chimed into the conversation as well. In a tweet Wednesday, BBC Woman's Hour presenter Jane Garvey said her radio program would spend the day homing in on the gender pay gap.
Green Party co-leader Caroline Lucas also responded to the report, calling the wage disparity "eye-watering" and "utterly infuriating."